One-On-One With Mayor Bernard C. "Jack" Young, Part II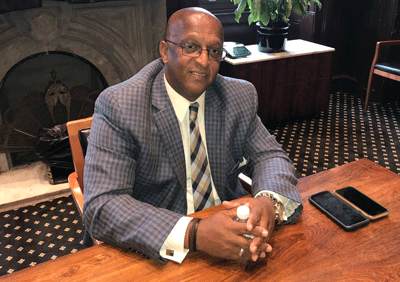 A major "race" was underway concerning Pimlico Race Course. However, this wasn't a race at Pimlico Racetrack. This was a race to keep one of America's most prized races— The Preakness Stakes from being moved from Pimlico to Laurel Park. The "stakes" were high. Pimlico stood to lose a historic race, which brings millions of dollars in revenue to the city along with international exposure.

The Stronach Group (TSG) officials were hopeful lawmakers would back a proposal to invest millions in upgrades at Laurel Park, a thoroughbred track located in Laurel, MD and make it the new home of The Preakness. Led by former Baltimore mayor Catherine Pugh, city leaders then filed a lawsuit to keep the Preakness at Pimlico. Keeping the prized race in Baltimore seemed to be a "longshot." But Mayor Bernard C. "Jack" Young was willing to "bet" that if the city and TSG could come together, the city would "win" the race to keep The Preakness.
He was right. In October, a deal was struck between the sides to keep the second leg of the Triple Crown in Baltimore. Mayor Young is proud of the "victory," which came just months after taking over the city's top political office.
"That was a cool deal," said Mayor Young. "I set in motion for everyone to come back together at the table and work together as a team. The lawsuit was the impediment to us sitting down and talking. We had to end the lawsuit to move forward. The deal will be one that everyone will be happy with."
For Mayor Young, keeping The Preakness in Baltimore came with a sense of urgency. But he admits that other issues facing the city— including lowering the violent crime rate and cleaning up dilapidated neighborhoods, come with the same immediacy.
"My overall vision is to reduce crime and clean up the city," said Mayor Young. "There are areas that are filthy, people want potholes filled, and there are a host of other things on the books that people want done. It's a sense of urgency. If people see things being done, they don't complain. I want to do all I can to move this city forward.
"I am also looking at helping the workers who pick up trash, repair our streets, and collect the water bills. They take a lot of abuse. I tell them 'it's not directed at you, but the system.' I once thought I could change the world. But I stopped promising all of that stuff. I promised good government and access to the citizens of this city, and that's what I intend to give them."
Mayor Young shared some of his strategies.

"Redeveloping the community, rebuilding communities, and robust job training facilities are key to reducing crime in Baltimore," said Mayor Young. "I believe that with everything in me. If I had a magic wand, I would fix this system in no time. We all have to work together as a team to move the city forward. But even in the midst of the violence in our city, I believe Baltimore is in the midst of a Renaissance.