Books And Lights Combine To Create Brilliant Baltimore
Cheyanne Gordon, Morgan State University SCOM Student | 11/8/2019, 6 a.m.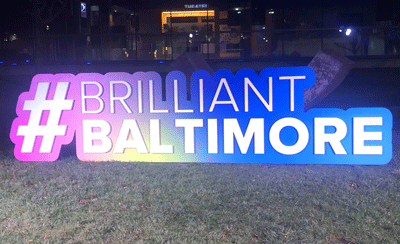 How does 10 days of lights, books, music, art and food sound? Baltimore Light City is back in its fourth year, but this year Baltimore is in for quite a treat.
Baltimore Light City and Baltimore Book Festival partnered to create the festival together. These are two of the biggest events sponsored by The Baltimore Office of Promotion and The Arts (BOPA). They are calling the experience Brilliant Baltimore.
Santiago Nocera, BOPA's Marketing & Communications associate said, "We've combined them so it is both a celebration of books and a celebration of art, and also everything that contributes to the arts, literary arts, culinary arts, performing arts, and visual arts."
More than 200 authors are part this year's festival, including Baltimore author Linda Morris. Her book, "Cherry Hill: Raising Successful Black Children in Jim Crow Baltimore" chronicles her experiences growing up in South Baltimore. Visitors can participate by joining in panel discussions about a range of contemporary and historical issues.
More than 400,000 people are expected to take in Brilliant Baltimore, which runs until Sunday, November 10, 2019.
"This is my second time attending Light City. I think it's a great way to spotlight the city and look at our attractions and our best known locations in a new way," said Tierra Brown of the Department of Recreation & Parks of Baltimore. "I love the art installations. Baltimore in my mind is larger than life. I feel like, so is Light City."
It's no secret that the business community is excited about the festival. Hotels, parking garages and restaurants will see a big boost to their receipts because of the increased traffic at the harbor.
Although the event attracts its share of out of town visitors, organizers say the hometown crowd is what puts the event over the top.
"I love Light City. When I heard they were bringing it to Baltimore I thought it was a great concept. I love art, so to see it in a different form sparked my interest," said Tammy Walters of the city's Department of Transportation. "The event shows a different side of the city and shows off our diversity."
"I think it's a wonderful event to showcase Baltimore both locally and nationally, and it's not just about being downtown we have it in our neighborhoods as well," said Baltimore Mayor Bernard C. "Jack" Young. We want to encourage everyone to come out and enjoy everything we have to offer during the Light City and The Book Fair, but more importantly going to see the light exhibits in our neighborhoods."

Eighteen installations illuminate The Inner Harbor including the popular "Shrooms" display by artists Amigo & Amigo. The 13 giant inflatable mushroom shapes will compliment a drone show, 45 performances and a fireworks finale this year.
"We put out a call for artists and about half of those are Baltimore based artists," said Nocera. "We are working with Baltimore talent, but are also working with international artist as well. Artists are here from Australia, Netherlands, France and Portugal."