KIPP Academy Surprised With Donation To Support Sports Programs
Mission Tiger and Ed Reed help to level playing field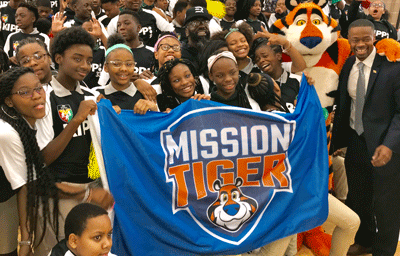 "I participated because I'm from a neighbor[hood] like this. I know what it feels like to not have access to certain things. Teaming up with Kelloggs and Mission Tiger is an awesome way to give back to our community. I'm all for that."
Mission Tiger launched in August with a $1 million dollar commitment to DonorsChoose. Since 2000, more than four million people and partners have contributed $893 million to support 1.5 million teacher requests for classroom resources and experience through DonorsChoose.
Mission Tiger middle school sports projects such as the one at KIPP Ujima Village are fulfilled by DonorsChoose. Mission Tiger has helped more than 161,000 kids nationwide get better access to sports by funding middle school sports programs in need.

KIPP Baltimore currently serves more than 1,500 students and nearly 1,200 alumni through an elementary charter school, KIPP Harmony Academy, middle charter school, KIPP Ujima Village Academy, and an alumni support program called KIPP Through College (KTC).
"The announcement was very unexpected," said eighth-grader, Rocksann Smith. "I play baseball, lacrosse, head the dance team and I am about to start track and cross country. I can't wait. The upgrades to the gym and the new fields are going to be spectacular."