12 Outstanding Individuals Honored For Their Work In The Community
"I was a part of Joy Bramble's initiative years ago when she started the newspaper," recalled Dr. Simon. "I went to her house on Madison Avenue where she worked on the dining room table putting together the infamous Baltimore Times and Annapolis Times. To be honored by Joy and her team is an honor. It's like a mother giving birth. I was there when she birthed the paper and watched it grow. I feel very connected to the paper because of that."
She added, "I really like the way The Baltimore Times honors a cross-section of individuals who continuously give to our communities. Many have been in the shadows. Events like this honor those who have been in the shadows, and that's awesome."
James Hamlin, owner and operator of The Avenue Bakery was also among the honorees.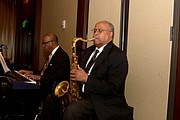 "The event was first class," said Hamlin. "Those of us who were recognized don't do it for the recognition. We do it because we want to make a difference. We all want to make Baltimore a better place."
Bronwyn Mayden is the Assistant Dean and Executive Director of Promise Heights at the University of Maryland School of Social Work.
"It was a wonderful event," said Mayden who was also honored. "I was so pleased to be included with such a stellar group of individuals. My family were all there, and were so excited to see me get the award."
Bernette L. Jones, Senior Minister of One God One Thought Center for Better Living, is a past honoree.
"Ultimately, one of the most important and significant things we can do in the community is acknowledge people, who of their own volition, are doing uplifting work," said Jones who attended the event. "These people are giving us a sense of direction and hope in terms of what's possible to make sure we see a change in the direction our community is going. Congratulations to all of the honorees. I encourage them to all keep moving forward."
The other honorees were: Pam Curtis, founder of Pushing The Vision Outreach, Inc.; Adrienne A. Jones, Speaker of the Maryland House of Delegates; Vaile Leonard, Founder and CEO of The Light of Truth Center, Inc.; George Mitchell, President and CEO of Youth Educational Services; Monica Mitchell, who leads Corporate Philanthropy, and Community Development work for the Maryland and Greater DC regions and serves as chair of Wells Fargo's "Where We Live" initiative; Charles "Chazz" Scott, Executive Director & Chief Creative Optimist of Positively Caviar, Inc (PCI); and Dr. David Watson, President of Morgan State University.