Rev. Daniel C. Worthy Honored For Work At Forest Park Senior Center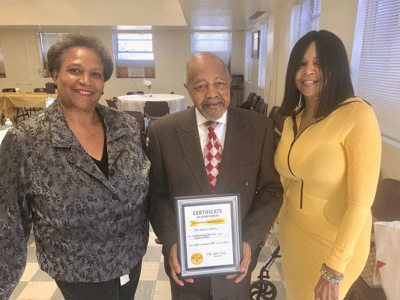 Rev. Worthy joined the Forest Park Senior Center in 2003 as a Bible Study teacher, and still fills in as needed. In addition to executive director, he has also served as the Forest Park Senior Center's rental agent.
"In the last sixteen years, I have finished the center's basement, first floor and the third floor," said Rev. Worthy noting the buildings renovations. "Air conditioning and heat throughout the building have also been accomplished. Ten churches hold services here, we are open seven days a week, and our auxiliaries have grown from four to twelve."
In addition to the Bible Study class, the Forest Park Senior Center offers a wide variety of programs and activities including a sewing room, and dance, exercise, and aerobics classes. The center also offers an "Eating Together Program" Bingo and other activities. The Forest Park Senior Center will hold its "40th Anniversary Celebration" on Friday, October 25, 2019 at the center.
"I wanted to keep the Forest Park Senior Center for the seniors," said Rev. Worthy. "One of the reasons I wanted to keep it that way, is keep the seniors fresh and vibrant. To let them know that being a senior doesn't mean that you are old, but that you have been around for a while."
For more information about the Forest Park Senior Center or its upcoming 40th Anniversary Celebration, call: 410-466-2124.