Annapolis Veteran Recognized By Local American Legion, His Story Part Of Veterans History Project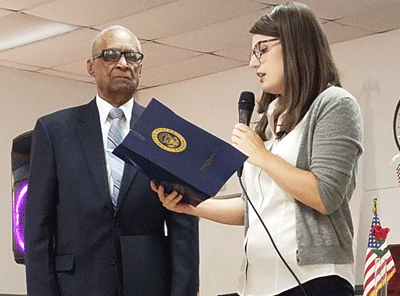 Diggs's interview has been selected to be digitized and will be available online. However, some stories are only available for viewing in the American Folklife Center (AFC) Reading Room in the Library's Jefferson Building. The center is located in Washington, D.C.
"If you all are interested in his (Diggs's) story, you can go to: www.loc.gov/vets. In a little while, we'll have it posted, and you'll be able to listen to his full story, but I encourage any veteran who is here tonight to also share their story. Because, while [Mr. Diggs] is an absolute hero, he's only one veteran out of the 22 million living veterans in America today— and every single one of them has an important story," Huber said. "And no matter what you did, what branch you served in, whether you deployed or not, your story is important and your story matters to America. So we hope all of you who are veterans or who know veterans will look up the Library of Congress Veterans History Project and get involved."
Jones reaffirmed these points, when he added that he would like children to ask relatives if they served in the military.
"If the answer is 'yes,' ask "What did they do?'" Jones said. "So much history is being lost because children don't know what's right in front of them."