Entrepreneurs Get Inspired, Informed At "Mind Your Business"
Shernay Delice | 10/11/2019, 6 a.m.
"Give me a scenario when you have executed," he said during his breakout session on business financing. "That's why they say it's ideal to start a business after you have paid off your debts….Most lenders want to see two years of business experience and that means two years of filed taxes and they want to know when you became official with the state."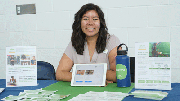 Other exhibitors made it clear that entrepreneurship is also attainable through alternative lenders. Baltimore Business Lending, which provides micro-loans ranging from $10,000-$50,000 to start-up businesses and Kiva, a crowdfunding platform that allows business owners to raise up to $10,000 in interest-free loans, both had representatives at the seminar.
The "Mind Your Business" event also proved motivational during a breakout session on side hustling. Attendees were encouraged to combat procrastination by constantly reminding themselves why they wanted to start their businesses.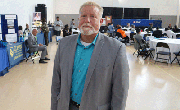 "Having a support system is great, but no one is going to be sitting up at 2 a.m. sending out invoices for you," said presenter Karissa Carson, a women empowerment brunch organizer.
"You have to be self-motivated."
For the mother and daughter team of Orange Dream Events, these types of messages are their driving force.
"We don't want to just jump out there as a business," said Mia Orange. "We want to attend conferences like this, actually get the market research, and push ourselves, so we can scale up."
The younger Orange says events like "Mind Your Business" are crucial for communities in Baltimore.
"If somebody is not really searching hard for all these resources, they may never find them," she said. "And it's something special about having all of these people here in one place to get the answers you need to grow your business."