Novartis Returns With Breast Cancer Awareness Campaign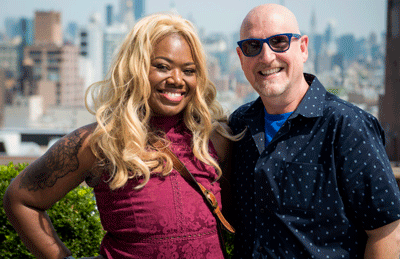 "Metastatic Breast Cancer is a big part of my life, but I can't let it take my life over. The campaign has given me a stronger voice and more awareness that we all are going through something. Just because I look healthy, doesn't mean I am. The person next to us can have a chronic disease, and we not know it."
Kurdirka, also known as "Bald Ballerina," began dancing at a young age, and would eventually grow up and join the Joffrey Ballet Concert Group, a part of the prestigious Joffrey Ballet Company in New York City. Kudirka still dances occasionally, but primarily focuses on advocacy efforts for the MBC community.

"I get to meet women with MBC and men with MBC," said Kurdirka. "Men getting Metastatic Breast Cancer is rare, but it does happen. Being a part of this campaign teaches the general public about MBC. We won't be quiet. We will rise up and want to change the world."

Sharpe, who is now 41, advocates for young women with breast cancer and started the non-profit group Shay Sharpe's Pink Wishes. The organization educates and grants wishes to women under 40 affected by breast cancer.
"It's all about getting the word out about breast cancer," said Sharpe. "The more education the better. I am really happy to be an Ambassador. If I had not been diagnosed, breast cancer would not be on my radar. It makes you think and that's what it's all about— awareness.
"I have met some amazing women through this campaign. I get to put real faces to the names of those who are advocating in their areas. I get to meet people who are trying to make an impact by bringing their story to people who wouldn't know their story if it wasn't for this campaign."
To visit Kudirka's Instagram, go to https://www.instagram.com/baldballerina/ and Sharpe's Instagram is https://www.instagram.com/shaysharpespinkwishes/.
For more information about the Kiss This 4 MBC campaign, visit http://www.kissthis4mbc.com.