Stacy Brown's New Book Provides Insight Into Cosby, M.J., & O.J.'s Courtroom Battles
Author details famous celebrity trials in new book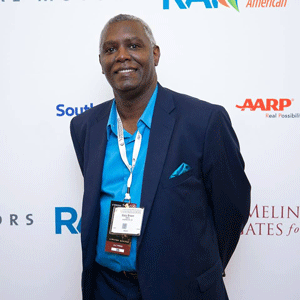 "The best vacation was my honeymoon", said Brown. "The next best vacation was Neverland. It was the most amazing place I have ever been, and Michael Jackson treated his visitors like royalty."
He added, "Michael Jackson also had a book for all of his guests to sign. I saw names which included Serena Williams in the book. The place was unbelievable. I'm sure I'll never see a place like that again."
Brown, who is a native of New York, is also the co-author of Blind Faith: The Miraculous Journey of Lula Hardaway and her son, Stevie Wonder and Michael Jackson: The Man Behind The Mask, An Insider's Account of the King of Pop.
In addition to writing for The Baltimore Times and NNPA, Brown's 'storied' journalism career also includes writing for The Informer, BlackPressUSA.com and The L.A. Times.

He and his wife have five children.

Brown also shared another name that he saw in Jackson's guest book at Neverland, which also appears in his book – O.J. Simpson. Simpson was tried for two counts of murder in the 1994 deaths of his ex-wife Nicole Brown Simpson and her friend Ron Goldman. Simpson was acquitted of all charges the following year.
"O.J.'s trial was all about timing," said Brown. "Timing is everything. O.J. said to me, 'it's all about having the best lawyers. He never said, 'no, I'm not guilty. No, I didn't do it.' I believe O.J. Simpson is guilty. O.J., in my view, got away with murder."
To read more of Brown's behind-the-scenes insights into the legal battles of Cosby, Jackson and Simpson, you'll have to purchase his book. "Celebrity Trials: Legacies Lost, Lives Shattered, So What's the Real Truth" sells for $19.00 on Amazon and is available on Kindle for $9.99.