Rambling Rose: Community Folks End Summer With A Bang
9/6/2019, 6 a.m.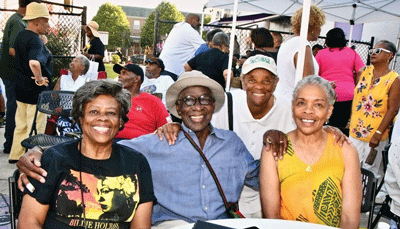 Hello everyone! I hope your Labor Day weekend was all you wished for. My goodness, what a summer? I sure hate seeing it slowly creeping to an end but I have enjoyed every moment of it. With me rambling around to so many events this summer— shows, concerts, festivals, crab feasts and daytime cabarets and backyard parties, it seems like you had a hell-la-VA good time too. I saw you out there. Well, it's not quite over yet! Just follow my lead! My Boo-Boo (Shorty) and I have a few more places to take you.
There is a free concert in the park at Lafayette Square, corner of W. Lafayette and N. Arlington in Baltimore. It is an afternoon of pure jazz. "The Billie Holiday Jazz Concert" on September 7 from 2-6 p.m. with performances by Nasar Abadey on percussion, Sheila Ford, vocalist; Sean Jones on trumpet; Richard Johnson on piano and special guest "The Jamal Moore Organ Trio.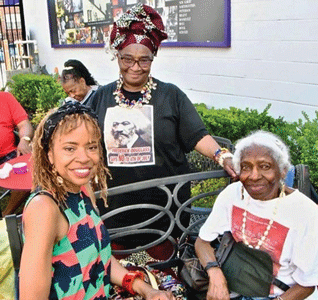 The Lexington Market is hosting a "Back to School Bash" on Saturday, September 7 from 12 p.m. to 4 p.m., outdoors, adjacent to the Market Arcade. The free family event offers children's activities, a raffle, and music provided by several DJs' Dell, Exotic, and Dexx along with MC Nellz. The event will be held indoors in the event of inclement weather.
Most Worshipful Prince Hall Grand Lodge, F. & A.M. and members of the Craft are summoned to attend in Masonic Dress, the Annual Prince Hall Day Service to be held in the Samuel T. Daniels Sanctuary, 1307 Eutaw Place in Baltimore on Sunday, September 8 at 3 p.m.
Bro. Larry Washington, the oldest member of the Arch Social Club is hosting the "Black & White "Arch Social Club Reunion." To all the past members, friends, families, supporters, churches, night clubs folks and community organizations this will be the party of the year. It will be at the Arch Social Club 2426 Pennsylvania Avenue on the corner of Pennsylvania Avenue and North Avenue on Sunday, September 8 from 5-9 p.m. There will be music, free food and entertainment. For more information, call 410-622-2271.
Girlfriend, didn't I tell you it's not over yet! Honeychild, check this out! "The All You can Eat Crab Feast, Cabaret all in one" on Saturday, September 7, 5-9 p.m. hosted by the one and only, "Shorty" and my Godchild, and one of the craziest, funny and loving guy in Baltimore, "Tee-Shirt Brian" held at the Forest Park Senior Center, 4801 Liberty Heights Avenue. The event is BYOB with food served from 5-8 p.m. For more information or be a vendor, call 410-790-9333 or 443-226-8895.
There is a club, I have been talking about off and on called "Cured 1821," (I know, it's a weird name), but it is a dynamite supper club in Columbia, Maryland and a couple of my favorite musicians have been playing there for quite some time now. I am talking about Terry Battle on bass & Jeff Wilson on piano— "The Sidestreet Duo." They will perform at Cured 1821 every Sunday in September from 5 p.m. to 8 p.m. The club is located at 10980 Grantchester Way in Columbia, next to Merriweather Post Pavillion. For more information, call 667-786-7111.