Rambling Rose: Community Folks End Summer With A Bang
9/6/2019, 6 a.m.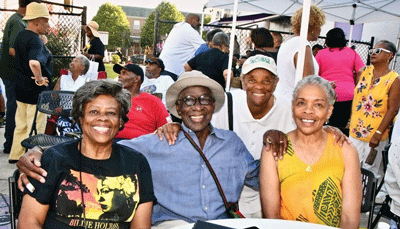 Well, my dear friends, I believe this is it for right now but mark your calendars for "Sam"The Man" Brice Under the Bridge Reunion" on Saturday, September 14, 2019 from 6-11p.m. at the DDL Lounge, 2008 Belair Road. The event includes live entertainment, cocktails and food. For more information, call 443-621-9947.
Mark your calendar for the Historic Ebenezer A.M.E. Church, 20 West Montgomery Street in Baltimore for an "Evening of Jazz" featuring "The Fruition Experience with vocalist Ama Chandra on Saturday, September 14 from 5-9 p.m. For more information, call 410-818-0196.
Okay, my friends before I leave you, I want all my fans and friends who have been reading my column for the past 30 plus years and all the organizations I have been writing about, I need your support. I am looking for you to sponsor my page "Rambling Rose" with you advertising your event for at least 4 weeks or longer AD. I will give you a special rate with special stories and pictures about your event. I am looking forward to expanding my column to help you sell more tickets or get more folks at your event. Call me at 410-833-9474 for details. Thank you!
Remember if you need me, you can email me at rosapryor@aol.com or call me at 410-833-9474. UNTIL THE NEXT TIME, I'M MUSICALLY YOURS.