Facebook Announces The Baltimore Times As A Journalism Project Community Network Grant Recipient
9/12/2019, 4:43 p.m.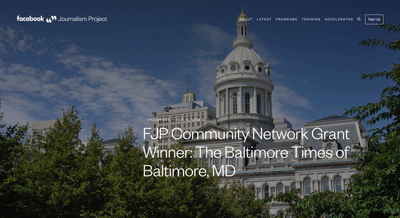 We're SO PROUD and EXCITED to announce that we've received a Community Network grant from the Facebook Journalism Project! You can learn more about our project and what it means for our readers here: https://www.facebook.com/facebookjournalismproject
The Facebook Journalism Project and the Lenfest Institute for Journalism are pleased to announce 23 additional recipients of Community Network grants. Organizations will use these grants to support projects aimed at building community and new paths to sustainability in local news. In July, the first 23 grant recipients were announced. The current round includes initiatives focused on new paths to sustainability.