Sickle Cell Disease Association Making Strides In Blood Disorder Awareness
9/13/2019, 6 a.m.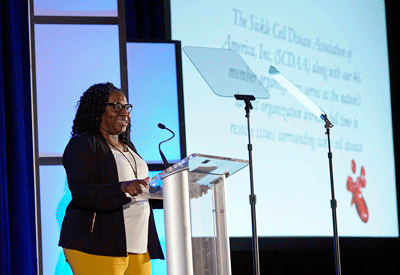 About one out of every 365 African American births in the United States results in a baby with sickle cell disease (SCD).
Despite its prevalence, the medical community still has difficulty understanding the illness. Experts say most people lack essential awareness of the inherited blood disorder that affects approximately 100,000 people in the United States.
African Americans and Hispanic Americans are most commonly affected, according to researchers.
Beverley Francis-Gibson, president and CEO of the Baltimore-based Sickle Cell Disease Association of America (SCDAA), knows the devastating impacts of sickle cell disease, particularly end-organ damage. As a child, Francis-Gibson witnessed her cousin struggle with chronic anemia, the slow destruction of his vital organs, and constant pain.
As part of Sickle Cell Disease Awareness Month, Francis-Gibson served as host of the 8th annual Sickle Cell Disease Therapeutics Conference on September 10, 2019 at the Westin Washington, D.C. hotel. Rep. Robin Kelly (D-Ill.) served as the keynote speaker.
The event was designed to provide the SCD community with an opportunity to gather and address critical issues facing patients, as well as the latest developments in care access and the many strides made by research, and development of possible new treatment options were also topics of discussion.
"We don't have any new drugs on the market for sickle cell patients, but we anticipate that in the next decade or so, we're going to have amazing options," Francis-Gibson said. "I think it's important that we all stay engaged."
Remaining engaged is something SCDAA has always done.
Francis-Gibson said sickle cell disease awareness month isn't the only time SCDAA and others in the SCD community actively seek to make a difference for patients and caregivers.
"It's not something that we focus on just in September. We have many events that happen throughout the year," Francis-Gibson said. "And it is important for patients, individuals, caregivers, and just the general community to be aware of what's happening around the United States."
The goal of SCDAA, which will hold its annual convention in Baltimore in October, is to raise awareness about sickle cell disease. The nonprofit accomplishes its mission through several venues, campaigns, conferences and workshops, according to Francis-Gibson.

"Because we know that the information changes rapidly. And things are moving fast in terms of new therapies for sickle cell patients," Francis-Gibson said. "And we want to make sure that we're bringing everyone along at the same time so that no one is left behind, or they don't have the information that they need to make an informed decision."
The SCD community has historically been underserved, and many SCD patients lack access to adequate resources and care. Against that backdrop, some of the subjects tackled at the conference
included patient advocacy and educating caregivers about the need for pain medication for SCD patients.
"This conference is a unique opportunity to bring together the community. And so we have patients, we have caregivers," Francis-Gibson said. "We have industry leaders; we have students who come together to learn and hear about new solutions, and share information about new knowledge that has been gained.