Fun-filled STEM Day Extravaganza Encourages Kids To Pursue Careers In Science, Math, Engineering And Technology
Demetrius Dillard | 9/20/2019, 6 a.m.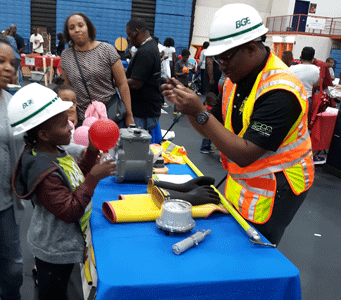 "As you can see, they don't want to leave. They love it. They said this is fun, this is exciting," Wilson said. The extravaganza also holds the potential of added recruitment for the Saturday Academy program. Wilson expounded upon his and his colleague's efforts to deliver a fun alternative for STEM involvement.
"In the STEM area subjects, some people think 'oh, it's not for me.' They're too scared. No, science, technology, engineering and math is all fun.
"That's why we teach by [children] playing and then learning. And we need more of them to go into these fields when they come to college."
Billie Partlow, a former BMAA instructor for high school students, has been a vendor since the extravaganza's inception in 2012. Her exhibit, named "heart and mind," focused on the effects of space travel on the body systems. The objective of the Partlow's exhibit is for participants to understand how the nervous and cardiovascular system functions. She went on to explain why STEM is so critically important for black youth.
"Minorities or African-American children have been denied these privileges. It's like our children don't have the ability to learn technology and they're not math wizards— yes they are. They're just like any other child," said Partlow who was also a former physics teacher with Baltimore City Public Schools. "I'm glad that whoever thought of this STEM thing note that our children need this for tomorrow as well as today… the STEM program is the best thing that could've happened."