From The Young And the Restless To The Rich And The Ruthless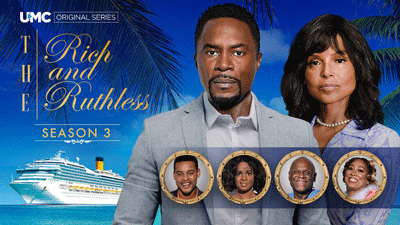 Victoria Rowell Continues Soap Success While Opening Doors of Opportunity
Bringing more meltdowns, mischief and masterful manipulation, Victoria Rowell's Daytime Emmy nominated soap opera comedy series "The Rich and the Ruthless" returned for a third season on UMC (Urban Movie Channel). Season Three of the series followed the cast as they prepared for their "Destination: Nowhere" cruise to thank their loyal soap fans with some exclusive, over-the-top entertainment.
But with Rowell, who portrays "Kitty Barringer" and her husband "Augustus Barringer," played by Richard Brooks at the helm, and their crew of eccentric cast members, the claws were back, and calamity on the high seas was inevitable.
The series stars Rowell— best known for her role as "Drucilla Winters" on The Young and The Restless. Rowell also executive produced Season Three along with Sarah Snow in association with Days Ferry Productions, LLC.
"The Rich and the Ruthless" is a behind-the-scenes soap opera that follows the fictional story of the first run daytime drama in the industry.
"Everyone knows me as Drucilla, and I never took that footprint for granted," said Rowell. "The legacy of soup opera is incredible, and our fans are loyal. No matter what I did, that character was strong. However, in my role as an executive director, I have been able to collaborate with black writers who I knew and had not been given parody in daytime drama.
"I have been ready for this moment for a long time. Writing rooms are still 60 percent white males. Robert L. Johnson has given me creative license. In my role, I have been able to hire department heads to do hair and makeup. This is also part of being a producer. I am also able to hire qualified people who have been denied an opportunity for decades. I am able to bring forth talent and original content that deserves to be seen and heard."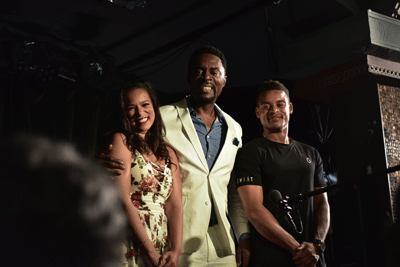 Rowell was referring to Robert L. Johnson, founder of Black Entertainment Television (BET). Johnson owns RLJ Entertainment Inc., who launched UMC, the first and largest subscription streaming service dedicated to Black film and television.
Just before the release of its second season in 2018, "The Rich and the Ruthless" received a Daytime Emmy nomination for Outstanding Lead Actor in a Digital Daytime Drama Series for Brooks' performance, along with seven Indie Series Award (ISA) nominations, taking home the win for Best Ensemble cast in a comedy series. Earlier this year at the 2019 ISAs, the series won the award for Best Ensemble Cast in a Comedy Series for the second year in a row, and the show's Alesha Renee won Best Lead Actress in a Comedy Series.
"I always knew there was an African-American female audience out there, and I wanted to cater to that audience," said Rowell.
Rowell played "Drucilla Winters" on "The Young and The Restless" for 14 years and won a Daytime Emmy for her performance on the show, but spoke candidly about what she felt was the lack of opportunities being offered to minorities.