From The Young And the Restless To The Rich And The Ruthless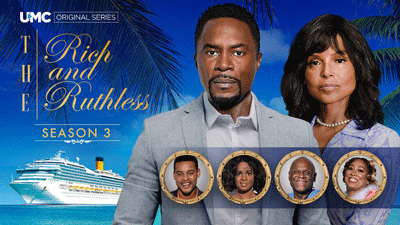 "There are zero African American producers and zero executive producers on the Young and the Restless in decades of existence," said Rowell. "When you look at those numbers it's unconscionable. I spoke broadly about it, and went to court about it."
Rowell was referencing a lawsuit she filed against Sony Entertainment and CBS Corporation in 2015 for harassment and discrimination. The case was settled out of court.
"It was a good fight and a necessary fight," said Rowell. "All of those things inspired me to create The Rich and the Ruthless. I saw the disparity. I also saw the loss of careers and revenues of people who lost their careers. We forced Sony to hire the first black writer in the show's 37-year mark."
Rowell is the author of a New York Times bestseller The Woman Who Raised Me.
"I also star in Lifetime's Pride and Prejudice Atlanta," said Rowell. "I'm involved in quite a few projects, and my plate has been very full. I am very grateful. With all of that comes responsibility, and is a part of my legacy."
The cast of "The Rich and the Ruthless" also includes Dawnn Lewis (A Different World), Robert Ri'chard (Coach Carter), Michael Colyar (The Princess and the Frog), and Valencia Algarin (Black Jesus).

"We have such a wonderful cast," said Rowell. "It's thrilling to have a hit show on a black-founded, streaming company. How fitting that Robert Johnson would give me the opportunity to present original content like The Rich and the Ruthless."
She added, "The Rich and the Ruthless is his first original series and most watched. I am very proud. This is a great time for black females."
For more information about the show, visit: www.therichandtheruthless.com