Hotel Revival 'Reels In' a Big Catch Jason Bass named Director of Culture & Impact
By Ursula V. Battle | 8/8/2020, 5:45 p.m.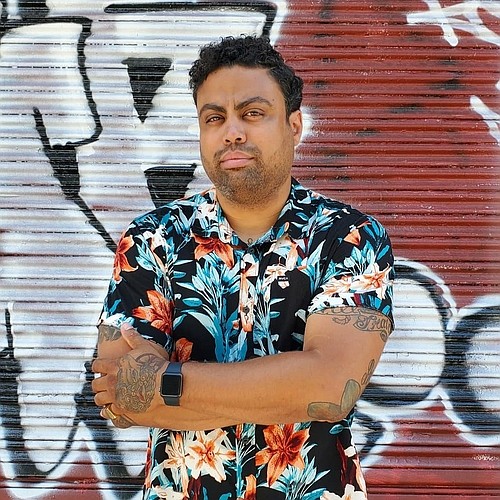 In wanting to move towards more in- clusiveness, Hotel Revival threw out the reel hoping to hook a big catch. They got one – Jason Bass.
An award-winning entrepreneur, Bass is co-founder of "The Night Brunch," a group that coordinates monthly gather- ings for the community at different restaurants in Baltimore City. He is former CEO of the Baltimore-based Treason Toting Company. Bass's work and mission is centered around Baltimore and its people, and has earned him a reputation as one of the area's most talented businessman.
Bass, 40, recently joined Hotel Revival as its first Director of Culture and Impact. In his new post, Bass will build brand loyalty through engaging the community, guests, neighbors, and partners and curating cultural programming and events at the hotel and its food and beverage establishments. In addition, he will coordinate and lead an employee en- gagement program where employees are presented with regular opportunities to volunteer and be involved with the community.
"I am responsible for a bit of the internal culture, but connecting the company with the community and developing a stronger relationship between the two," said Bass. "I am doing that through partnerships and relationships that may have pre-existed, but were not nurtured. I am looking at those, amplifying them, and looking at new opportunities. The goal is to make the hotel as inclusive and diverse as possible."
Hotel Revival is a 107-room, 14-story boutique hotel located at 101 West Monument Street, in Baltimore's historic Mount Vernon neighborhood. Since 2019, Bass had been serving in a con- sultant role.
"I am humbled and very appreciative," said Bass. "Working with Hotel Revival in a consulting capacity was just one step, but for it to go in this direction so quickly and during a pandemic and looming recession is amazing. I am full of gratitude for the opportunity." At his most recent venture, Kiss Tomorrow Hello, a marketing and events agency, Bass worked with brands including Hotel Revival, to culminate impactful and impressionable events by identifying key audiences and coordinating partnerships.
"What sold me was that Donte Johnson, General Manager of Hotel Revival, had a vision of creating commerce-free spaces," said Bass. "He wanted to get people to interact in the space, but not have it limited to just hotel guests. He wanted it open to the community. I had never really seen hotels attempt to do that. I thought commerce-free space was a great concept. No one is pressuring you to purchase anything. All you have to do is enjoy the space, be inspired, and do your work." Johnson talked about the 'Bass' Hotel Revival caught.
"Inclusivity and community are two leading values that have been and are engrained in who we are as a brand and what we are continually striving to accomplish," said Johnson. "Jason has spearheaded a number of successful, inclusive, community-focused efforts at the hotel, including our weekly lunch and produce distributions that we started at the beginning of the pandemic, as well as several in-person and virtual events and conversations surrounding timely topics. His creativity, connections and character are an asset to Baltimore, and we feel fortunate to have him as part of our family."