How George Floyd's death ignited a racial reckoning that shows no signs of slowing down
By Eliott C. McLaughlin, CNN | 8/9/2020, 12:35 p.m.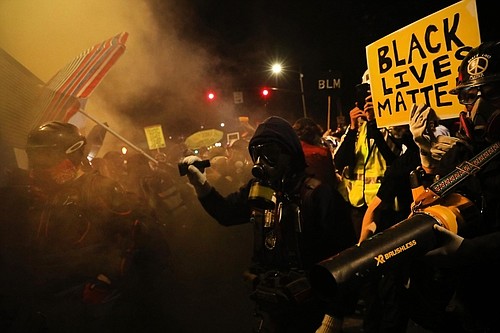 The George Floyd police brutality protests are different -- bigger, fiercer, more sustained -- than demonstrations prior.
America rises up regularly. It's in the DNA of a country founded on dissent. Millions have forged their anger into action, from the tax revolts of the nation's earliest days, to the labor, housing and busing protests that helped shape the civil rights movement. The Me Too-fueled women's marches of 2017 and 2018 and the March for Our Lives demonstration, born of the Parkland school shooting, each drew a seven-figure attendance.
Before Floyd's killing, the highest estimate for any American protest -- the 2017 Women's March -- was 4.6 million. Polls indicate that, as of mid-June, as many as 21 million adults had attended a Black Lives Matter or police brutality protest. They continue today, more than 10 weeks after a Minneapolis policeman knelt on Floyd's neck till the life left his body.
It's not just people and protests, though. It's also policies and points of view.
"I never would've imagined I would see a day when the Washington football team would change its name," said Tyran Steward, assistant history professor at Williams College, noting demands once deemed nonstarters are now on the table.
Police accountability bills have been introduced in Congress. Americans are discussing what defunding law enforcement actually means. Corporations are recognizing Juneteenth. Mississippi is changing its flag. Tributes to Confederates and others who espoused hate are falling. Athletes kneeling during the National Anthem aren't seen as so un-American anymore.
Why now? People demanded change after Michael Brown in Ferguson, Missouri, after Freddie Gray in Baltimore, after Walter Scott and the Mother Emanuel massacre in South Carolina.
Publisher and former St. Louis Alderman Antonio French, a staple of 2014's Ferguson protests, oversees coverage of the ongoing unrest in his city. Nationally, there are "daily reminders of why they need to be out in the streets protesting and demanding change," and he's proud they've been overwhelmingly peaceful, he said, but don't take it for granted.
"What started in 2014 in the streets of Ferguson has just spread across the country," he said. "Having this kind of turmoil with that many unemployed young people, with this kind of national leadership that has zero empathy ... this is the makings of real conflict, and I think we should be really concerned."
The reaction to Floyd's killing has indeed been different, experts say, owing to the graphic nature of the video that captured it, the nation's calls for justice in other killings, a pandemic disrupting normality, widespread unemployment, a phenomenon known as "vicarious trauma" and White people joining people of color in the streets.
'Interest convergence'
Covid-19 plays a dual role in the protests' momentum, scholars say. The pandemic has kept people home, with more time to consume news of Floyd's fatal arrest and the ensuing unrest. The pandemic has also robbed Americans of popular escapes, such as bars, movie theaters and vacations.