Booths of Hope Local Couple Helps NW Residents Impacted by Explosion
Ursula V. Battle | 8/14/2020, 6 a.m.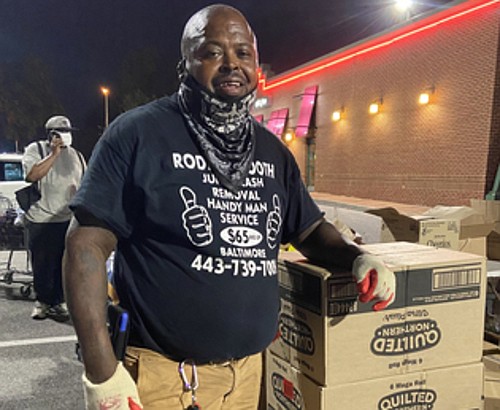 Baltimore City Public School teacher Ruwaydah Amin heard the news about the gas explosion that happened Monday, August 10, 2020, along Labyrinth Road and Reisterstown Road near Brookhill Road in Northwest Balti- more. She knew she wanted to help. Amin found a way to provide that help through Minister Rodney Booth and his wife Carlene.
On the day of the deadly explosion, which killed two people, seriously in- jured seven others, and leveled three homes, the Booths set-up a collection and donation area on Applebee's park- ing lot. The restaurant is located on Reisterstown Road.
"I came yesterday [Monday] with my son," said Amin. "We came to bring water. I wanted to help, and stayed to volunteer. I was here for about seven hours yesterday and came right back here today [Tuesday]. I have been here since 9 a.m."
She added, "I am helping the Booths with organization of the donations, and separating things so that its easier for people to get what they need. I love giv- ing back. I also love seeing people com- ing in droves and bringing things. They are bringing whatever they can to give to people. It's really amazing to see Bal- timore come together."
Stacked cases of water, and boxes which held toilet paper, paper towels, pam- pers, hand sanitizer, masks, canned goods, and other items lined the parking lot.
The items were distributed to individuals impacted by the explosion, which reportedly displaced approximately 250 people.
Carlene Booth is owner of First Lady Trash Removal and Home Improvement.
"All of the items were donated," said Booth. "People from all over donated. Good- will came and picked up the clothes we collected. There were so many clothes, they filled the tractor-trailer. We plan to be out here a few more days, and if we need to add on addi- tional days, we will. We are still in the middle of a pandemic and people need things. We are here to help those in need."
The devastating blast killed Morgan State University sopho- more Joseph Graham. The university said in a statement on Tuesday, "It is with a heavy heart that we regretfully share the unfortunate news of the un- timely passing of a valued member of our Morgan family. MSU student, Joseph Graham, a rising sophomore pursuing an electrical engineering degree from the Clarence M. Mitchell Jr. School of Engineering, was among the casualties of the widely reported gas explosion that took place in northwest Baltimore on Aug. 10.
"As a community, we mourn the tragic loss of life as a result of this calamitous event and offer our deepest sympathies to the Gra- ham family. We ask that you keep them and their extended family and friends in prayer."
At Baltimore Times press time, the identity of a woman who was also killed in the blast had not yet been released. The exact cause of the explosion is still unknown and is being investigated.
Booth said she was driving to a customer's home minutes after the incident and could not get through the area.