Cahoots Brothers keep the spirit of partnership collaboration alive amid pandemic
Alanah Nichole Davis | 12/4/2020, 6 a.m.
If there is anything that we've learned collectively here in Baltimore during 2020, it's that sticking together during the good times and the bad add to the resilient spirit of this charming city.
That spirit of stick-togetherness is one that the co-founders of the Cahoots Brothers, a retail store, which carries art, vintage and repurposed clothing, knitted hats, appliques, toy cars and more in the Remington neighborhood of Baltimore know all too well.
Remington is a vibrant, up-and- coming area with converted industrial spaces and the promise that The Greater Remington Improvement Association and its partners— Johns Hopkins University and Seawall Developers— saw when they launched the Remington Storefront Challenge in 2019. The prize, two pop-up retail stores were up for grabs in the heart of this inspiring neighborhood.
Greg Morton a businessman, art collector and owner of The Historic Frederick Douglass House in Baltimore and one of the co-founders of the Cahoots Brothers, one of the winners of the challenge said, "Collaboration is what we are all about at Cahoots. We are distinctly different individuals with different talents and were already hanging out as friends— and because we were friends we were always talking about doing things together, even before the store front challenge." By we, Morton is referring to the other brothers and equal co-founders of Cahoots— Warner Blak, a clothing maker; Arvay Adams, an embroiderer and screen printer; Alex Bell, a ceramicist; and Kyle Johnson owner of Bluestone Goldsmithing. The shop is sandwiched between other amazing small businesses like Greedy Reeds; Get Shredded Vintage; and Codex Club the second winner of the storefront challenge.
After a conversation at one of their regular hangouts, they came away and only a few short days later they saw the challenge and decided to approach it together.
"It was a good omen," said Morton. Participants in the challenge were evaluated and narrowed down by a panel of judges made up of Remington residents, anchor institutions and local business owners.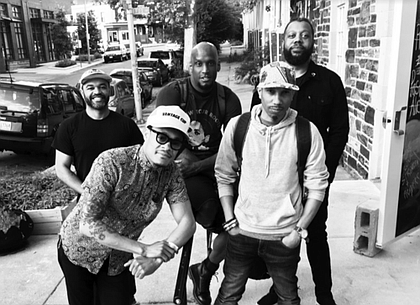 "We talked about the business model and how we would present ourselves, we wanted to reach out and create the connections between Baltimore and it's local artists," according to the group.
The panel of judges saw the benefit of coming together with the Brothers to create a unique retail and interactive experience that allows Baltimoreans to interact with their crafts and supports local makers.
The word cahoots usually gets a bad rap because it means "secrecy or conspiracy," but with the name they were merely trying to pay homage to the original use of the building they now occupy at 2700 Remington Avenue.
"When we were first coming up with the name we wanted that spirit of collaboration to be a part, and not only did cahoots sound cool but we wanted to pay homage to the old car culture since the building, [which] used to be a fueling station plus those cool old company names like Lehman Brothers or Hutzler Brothers that you may have seen in old Baltimore," said Morton.
Collaboration isn't just in the namesake of the store but is in the culture of the business and when you visit the Cahoots Brothers on any Saturday when they are having their weekly garage sales you can see their self proclaimed, "Cahoots Cousins," like Webster Phillips of I. Henry Photo Project a Baltimore based archival photo series; or Lawrence Moore a transplant to Baltimore and founder of Heavy
Paper Co. a custom fabricator and more. There are a lot of people who are not from Baltimore who see the opportunity from a value perspective to live out their dreams here in a way that they can afford. One of the Cahoots Brothers, Kyle is from Virginia and many of the brothers have traveled but they all find their home right here in Charm City. Following along on their Instagram (https://www.instagram.com/thecahootsb brothers/) you can see the spirit of collaboration afoot as they welcome other Black-owned or run initiatives and makers to sell on the sidewalk of their white bricked space in Remington.
They have hopes of getting into e- commerce to help supporters shop from home and even classic cars. Even with the pandemic, these entrepreneurial spirited Black men rise appropriately to the challenge by building a collaborative community lifting others as they climb.