A FUNDamental Boost for Baltimore's Social Enterprises
Ursula V. Battle | 12/4/2020, 6 a.m.
A pioneering new fund is providing just the "spark" historically underserved entrepreneurs need in order to jumpstart their communities.
Innovation Works, an innovative, collaborative resource network, has launched Ignite Capital, a $4 million social impact fund. Monies from the fund are offered as small grants or loans with low-interest rates so that social entrepreneurs can receive the necessary support to grow their businesses without the burden of extreme debt.
"We are raising money to support mission-driven businesses looking to help neighborhoods where there is blight and need economic activity to make them thriving," said A. Jay Nwachu, CEO of Innovation Works, and President of Ignite Capital. "The entities we support are the ones looking to bring change to those communities. The beautiful thing about this fund is that monies raised are going through our portal into those businesses.
"Most have not had success with banks, and we want to provide them with capital. We understand the hard work they are trying to take on, and want to support them. This is a source of capital that understands their needs and mission, and provides patience and support. Quite frankly, this is something Baltimore needs. Capital is essentially earmarked for certain businesses, and those are the folks seeking to bring about solutions."
Ignite Capital is subsidized by grants covering the fund's operating expenses, which allow grants to pre-revenue enterprises and support the loan loss reserve for the fund's lending activities. An individual or organization can support these impact-driven efforts as a co-investor.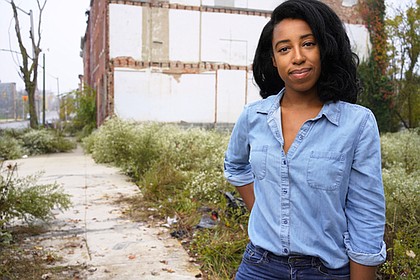 "This is a phenomenal opportunity," said Nwachu. "Entrepreneurs can come to a place that understands them, what they are trying to accomplish, and wants to help them achieve those goals with
Bree Jones is the founder of Parity, an equitable development company that acquires and rehabilitates abandoned properties to create affordable money, support and training. For them, this is a gamechanger."
Innovation Works connects neighborhoods, entrepreneurs, social innovation assets, and investors to build sustainable neighborhood economies in Baltimore.
"The fund is a reorientation in how we think about money and community," said Nwachu. "We live in a capital- driven society. If you don't have access to capital, its hard to do much. This fund is helping us to reimagine the relationship of money and its meaning in Baltimore. We are taking first steps in undoing the disinvestment in communities.
"There have been decisions not to put money into certain communities. The longer you're not putting money into these communities, the bigger the problems. The fund seeks to reverse generations of how we do business."
While Ignite Capital and its network of co-investors anticipates investing in roughly 12 businesses per year, to date, it has invested a total of $252,000 in four social enterprises. They include Parity, an equitable development company.
"The abandoned homes issue in Baltimore is huge," said Bree Jones, founder of Parity. "The biggest obstacle is reaffirming this is something we should be investing in, and what it means to heal the city. It will take a lot of capital to dig us out of this hole, and funding sources to do this are scarce. That's what makes Ignite Capital so special." Headquartered in West Baltimore, Parity acquires and rehabilitates abandoned properties by the block to create affordable homeownership opportunities.
"Our city is this way because of historic racism," said Jones. "We can't expect it to heal by pulling its own self up by its bootstraps. It will take investing from institutions that neglected it to begin with, and many are not willing to play that role."
Jones is 29, and a native of The Bronx, New York. "What set me on this path were the deaths of Trayvon Martin and Freddie Gray. I delved into social justice and was an activist for many years. I had a background in finance and economics and realized my lane was around housing. Parity reflects my professional experience and my passion for racial justice."
The launch of Innovation Works came as a result of 15 months of exploration of the Miller Center for Social Entrepreneurship and similar programs. The Miller Center's mission is to accelerate entrepreneurship to end global poverty and protect the planet.
The goal of Innovation Works is to help launch and grow 250 social enterprises in 10 years that will employ 5,000 Baltimore residents and attract $100M in capital to Baltimore's under- resourced neighborhoods.
"Patient capital, which is a long-term investment in an early-stage enterprise, is the most important in the entrepreneurship journey, but it's also the most difficult capital to raise," said Jones. "Innovation Works and Ignite Capital are crucial to the social entrepreneurship ecosystem because they are working to shift systems and remove common barriers that stifle Baltimore's high-impact social innovators—especially Black-owned and women-led enterprises."
For more information or to invest, visit iwbmore.org/ignitecapital.com