Local sports figure partners with Recreation & Parks to revive recreational facility
Demetrius Dillard | 12/4/2020, 6 a.m.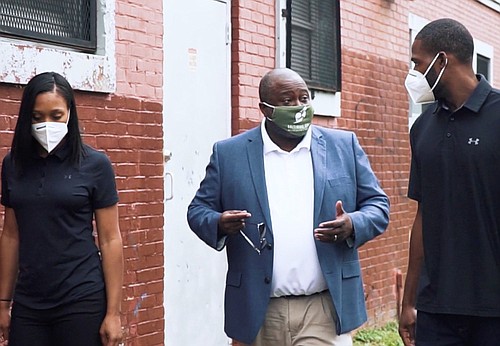 After being closed for 12 years, West Baltimore's Hilton Recreation Center has begun its path to once again becoming a staple for the community's youth thanks to a partnership between Baltimore City Recreation & Parks (BCRP) and former NFL player Torrey Smith.
On November 10, 2020, BCRP announced the partnership with Smith's nonprofit, LEVEL82, with plans to revitalize, staff and program the Hilton Recreation Center and its adjacent athletic field.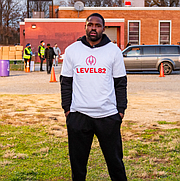 Programs aimed at youth development, academic support and mentoring, and community recreation will come out of the partnership.
BCRP executive director Reginald Moore said he was excited to partner with Smith to provide community programming and looks forward to reopening the doors.
"I just want to thank LEVEL82 and Torrey Smith for their support and commitment to Baltimore. They could've chosen many places to renovate a rec center but they chose Baltimore and that means a lot to our agency, that means a lot to our community," Moore said. "As we move through this new initiative, this new engagement opportunity, I look forward to the partnership, I look forward to the community improving." Smith oversees his nonprofit with his wife, Chanel Smith, who was a fourth grade teacher at Dogwood Elementary in Windsor Mill while Smith was with the Ravens.
LEVEL82— formerly the Torrey Smith Family Fund— is guided by five core principles: leadership, education, vision, effort and love. The nonprofit endeavors to "create a gathering space for those who live, work and play in Baltimore City while developing strategically- curated programming to empower the community."
Smith competed in the NFL for eight years after leaving the University of Maryland-College Park where he starred as a wide receiver. The Virginia native played his first four seasons with the Baltimore Ravens. Smith said Maryland is where he "became a man," being that it is where he spent most of his collegiate and professional career. Thus, it only made sense for Smith to focus his community efforts in Baltimore.
Following Smith's retirement, he had plans to either purchase a recreation center or partner with one. After learning that BCRP's vision aligned with LEVEL82's mission prompted Smith to pursue a partnership. After being presented with a list of rec centers to lend his services to, Hilton Recreation Center was Smith's No. 1 option.
"We identified that area because there was a great bond with community associations and leaders, a strong school that is very involved in the community and the need was there," said Smith, who also played for the San Francisco 49ers; Philadelphia Eagles; and Carolina Panthers and won two Super Bowls before retiring in 2019. "It was a great opportunity to enhance what's already happening in that community."
LEVEL82 will offer a variety of much- needed resources to Hilton Recreation Center in addition to revamping the athletic field, building a gym for more recreational opportunities and creating a music studio, forming an enjoyable safe haven to empower local youth.
In celebration of the partnership, LEVEL82 and BCRP hosted a Thanksgiving meal giveaway on November 24— two days before Thanksgiving.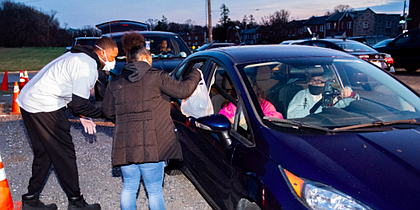 According to Smith, there isn't an estimated date of completion of the renovation at the moment as the fundraising stage is still underway. Aside from joining forces with Recreation & Parks, Smith hopes to gather support from local businesses, organizations and agencies.
"All we want to do is enhance and give people the resources to maximize their potential. We know the potential that exists there," Smith said. "We believe it takes a village to raise a child and we're trying to create that village there. Create that culture in hopes that it will change that neighborhood and long-term it will change lives."
For more information about the partnership and renovation project, BCRP encourages community members to visit: bcrp.baltimorecity.gov/hilton- rec-center. For ways to contribute to LEVEL82, visit: LEVEL82.org.