Ravens Lamar Jackson triumphantly returns from COVID-Reserve list
Tyler Hamilton | 12/11/2020, 6 a.m.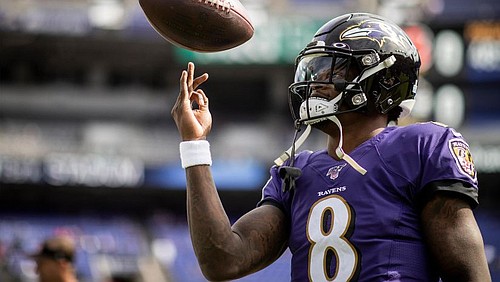 The Baltimore Ravens have endured one of the NFL's worst Covid-19 outbreaks this season over the past couple of weeks. A total of 22 players have been placed on the COVID- Reserve list during the outbreak. The Ravens were without quarterback Lamar Jackson in their 19-14 loss to the Pittsburgh Steelers last week.
Jackson returned to the lineup for Tuesday's victory over the Dallas Cowboys and brought back some of his exciting ways.
Jackson exploded for a 37-yard touchdown run and finished with 94 rushing yards on the day. He also found Miles Boykin for a 38-yard touchdown before connecting with Marquise Brown for a 20-yard scoring strike.
The dynamic quarterback was excited to be back in the lineup. "It felt like I didn't play [for] a whole season. I was like, 'It feels good to be back with my guys.' Even in practice, walking into the locker room and stuff, I was like, 'Man, I couldn't wait to see you, your faces.' It was like two weeks that I didn't see those guys. I couldn't wait to get out there and perform for those guys, because I know how much it would mean for us to win games— for sure," Jackson said.
Jackson explained how the symptoms that he experienced zapped him of his energy and caused him to sleep a lot. He still hasn't regained his sense of smell or taste. Before being placed on the COVID- Reserve list, Jackson was trying to reconnect with speedy receiver Marquise Brown. The vertical part of the Baltimore Ravens passing game has been missing for most of this season. It had allowed teams to be more effective when trying to stop the Ravens offense. Tuesday's game against the Cowboys provided hope that Jackson and Brown can get back on track.
Jackson's 20-yard touchdown pass to Brown was a thing of beauty. He found him in the corner of the end zone for the score. "I feel like he did all the work. He had a route, the play broke down in the backfield, he turned up, and he just made a great catch. He got his feet down. That was all him. I'm just grateful we connected on one. We've got to keep it going," Jackson said. As the Ravens begin to fight their way back to normalcy they can now start to get ready for a playoff run. At 8-5, they are just outside of the playoff picture with a huge game coming against the Cleveland Browns.
"We've got to take it day-by-day. We've got to keep winning games— that's it," said defensive end Derek Wolfe. "We've got to worry about Cleveland now, and that's it. That's all that matters. We've got to beat Cleveland. That's all that really matters. I'm not worried about anything else, other than beating the next team."