What black men need to know about prostate cancer
Benjamin H. Lowentritt, M.D. | 12/11/2020, 6 a.m.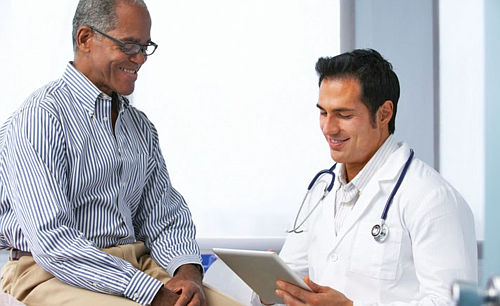 In the United States, an estimated 191,930 new cases of prostate cancer will be diagnosed and 33,330 men will die from the disease this year1. Notably, African American men have the highest prostate cancer incidence rate of any racial or ethnic group in the world2. In fact, the incidence of prostate cancer is about 60 percent higher in Black men than Caucasian men for reasons that remain unclear3. While scientists are trying to better understand the biological reasons behind why prostate cancer disproportionately affects Black men, promising new research may offer hope for thousands of African American men in the advanced stage of the disease.
The secret may lie in a man's own cells. Treatment with immunotherapy has become an important tool in the fight against advanced prostate cancer. While oral treatments work to inhibit testosterone, immunotherapy boosts the body's natural defense and involves harvesting a man's immune cells and training them to recognize and destroy prostate cancer cells more effectively.
Recent findings published online showed that immunotherapy may help African American men with advanced prostate cancer live longer when compared to Caucasian men.
Researchers compared overall survival rates in African American and Caucasian men who had similar prostate-specific antigen (PSA) levels and received immunotherapy treatment after their prostate cancer had spread to other parts of the body. They found that African American men lived 4.5 years compared with 2.8 years for Caucasian men— an improvement of more than 20 months and a nearly 50 percent reduction in the risk of death4. Immunotherapy is generally well tolerated, but it's not without risks. Common side effects include chills, fatigue, fever, back pain, nausea, joint ache and headache. These are not all the possible side effects associated with this treatment; more serious reactions can include acute infusion reactions, thromboembolic events and vascular disorders.
In Baltimore, where more than 60 percent of residents are Black or African American5, it is critical for people to understand the importance screening and early detection and be educated about treatment options for prostate cancer. As a urologist, I believe that early detection is the best defense against prostate cancer. Routine screening involves a simple exam and a blood test to monitor PSA. Men in their 40s should start to discuss this with their primary care provider, as individual factors, such as family history and race can influence when and how often screening should occur. The good news is that prostate cancer is slow growing, and it is highly curable when found in the early stages6.
For men living with prostate cancer and their caregivers, I suggest the following tips that can be helpful when navigating the cancer journey:
Seek Expert Care: When PSA levels start to rise, seek a referral to an advanced prostate cancer specialist or clinic, which can offer a full range of services to help coordinate many different aspects of a patient's care.
Attend Appointments Together:
Appointments can be overwhelming for men with prostate cancer. Having a caregiver attend doctor's visits can be just as important as finding the right medical care. Caregivers can listen from another perspective, ask questions and take notes.
Get Informed: There isn't a "one-size- fits-all" treatment approach when it comes to prostate cancer, and a number of new treatments (e.g., anti-androgen therapy, radiopharmaceuticals, chemotherapy and immunotherapy) have changed how men with advanced prostate cancer are treated. It's crucial to do your research, learn about the different treatment options and discuss your treatment approach with your doctor.
Benjamin Lowentritt, M.D., is medical director of the Prostate Cancer Care Program at Chesapeake Urology in the greater Baltimore area. For more information about prostate cancer, visit https://www.chesapeakeurology.com/.
Citations: 1 ACS. Cancer Facts & Figures. 2 JNCI: Journal of the National Cancer Institute, Volume 89, Issue 3, 5 February 1997, Pages 188–189. 3 ACS. Cancer Facts & Figures. 4 Sartor O, Armstrong AJ, Ahaghotu C, et al. Survival of African-American and Caucasian men after sipuleucel-T immunotherapy: outcomes from the PROCEED registry. Prostate Cancer Prostatic Dis. 2020;23:517-526. 5 US Census. 6 Cancer.net. Prostate Cancer: Statistics.