Baltimore & Me: The Shift List
Tiffany C. Ginyard | 1/10/2020, 6 a.m.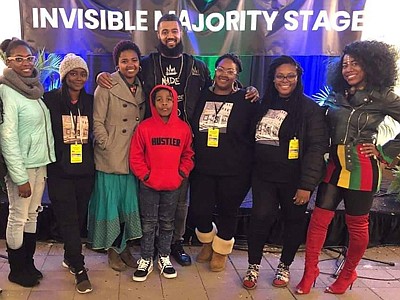 Since 2016, the Bunting Neighborhood Leadership Program has cultivated and trained three cohorts of neighborhood-level and community-based leaders to: identify effective ways to conduct and process needs assessments; engage the community utilizing the power of collective consciousness and acting together; develop systems of accountability and measurement to track the progress and impact of community initiatives and plans for change.
Sarah was already a transformational leader before the Bunting Leadership Program took an interest in her. Like we say 'round way, she's "been been." She's been the former Director of Operations of A Baltimore Girl's Story, a local nonprofit women's empowerment organization, and project manager for then Mayor Pugh's Women's Intergenerational Coalition, a community group by leading women in Baltimore.
Currently, Sarah is an active board member for Baltimore Healthy Start, a local nonprofit focused on reducing perinatal health disparities in disadvantaged communities." Her community service parlays into business opportunities that allow her to support the city's social entrepreneurs with strategic planning and brand management in her role as founder and principal consultant of Vision to Life, a consulting firm. She is also a Community Advisor for the East Baltimore Research Project (EBRP), a community-driven data project focused in Middle East Baltimore. It's five-year mission is to give the residential communities within the project the data tools that they want to spark the change that they personally want to see.
Congratulations, Sarah, for the work you put into yourself last year to make shifts happen in Baltimore. In 2020, we are looking forward to watching your perfect vision for this city unfold as you do. I am in total agreement with your cohort's class superlative: "Most likely to win the Nobel Peace Prize."
For the entire month of January I'll be dedicating space in the Baltimore & Me column to acknowledge the workers out here shining light on the streets and alleyways of Baltimore with their lives. Meet me here to see who's up next on the "Shift List."
Baltimore & Me is a series of letters to Baltimore from a west-side F.L.Y. girl from who loves the city with her whole heart. Tiffany C. Ginyard is a local lightworker and founder of The Fly Girl Network, Inc., an outreach organization dedicated to curating conscious raising media and creating safe spaces for people to BE.