Hope For Sobriety: Overcoming Addiction Through Exercise
Fatiha Belfakir | 1/10/2020, 6 a.m.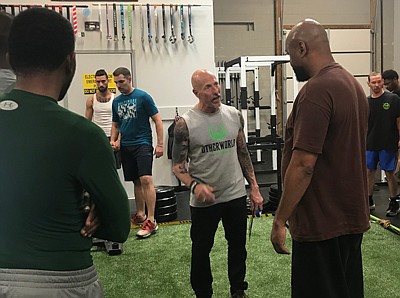 The men at Otherworld Fitness in Frederick, Maryland, move quickly from bars to climbing walls and elliptical machines as shouts of "Let's do it!" and "Teamwork guys!" echo through the gym.
Each team is determined to win the competition. Not only are these competitors eager to race and win against each other, but also, most importantly, many of them are hoping to win their battle against opioid addiction.
Timothy Guinan knows firsthand the problems of opioid addiction, which claims more than 130 lives across the country each day. After watching his son struggle to stay sober, he has opened his gym, Otherworld Fitness, to assist others dealing with addiction in hopes that exercise will help them with the healing process.
"The training is physical but there is a lot of belief, mental and spiritual. When they leave here they are so pumped up. They are proud, confident and they believe in themselves again. It's amazing seeing them coming from 'low and slow' to probably the happiest moment in their life without drugs," said Guinan.
Sume Hatami, 35, a bartender in Baltimore, suffered from addiction for years. He tried heroin and cocaine. As a consequence, Hatami lost his job and his apartment and hit "rock bottom."
Now that he has been sober for the last 17 months, Hatami recalls the impact of exercise in his recovering path and how it helped decrease his dependency on drugs. Working out continues to benefit him physically, mentally and emotionally.
"When I started working out, everything I did during the day was centered around the gym. Working out gives me a structure and something like an itinerary of my day," Hatami said.
Hatami says that if he didn't have such a routine structure, he would probably fall back into drugs.
"Drugs consume your life; you spend almost every second of your day either trying to get drugs, using drugs or finding ways and money to buy more drugs. Basically, it consumes your life; it keeps you extremely busy," said Hatami.
Opioid abuse is a serious national crisis that impacts public health as well as social and economic welfare. According to The Centers for Disease Control and Prevention, around 68 percent of the more than 70,200 drug overdose deaths in 2017 involved an opioid. In 2017, there were 1,985 overdose deaths involving opioids in Maryland, which makes the state rank in the top five for opioid-related overdose deaths. Factors typically surrounding the deaths involve synthetic opioids with illicitly manufactured fentanyl (IMF) that can be found in combination with heroin, counterfeit pills and cocaine.
Some medical studies indicate that exercise is one of the most powerful interventions in overcoming addiction. Research shows that individuals in rehab who engage in regular physical exercise can profit from a reduction in stress levels and drug cravings, as well as an increase in better sleep, higher energy levels, and an improved mood.
Guinan has partnered with a faith-based organization called Helping Up Mission that helps individuals struggling with addiction. He charges the Helping Up Mission participants $19, which is 30 percent of what he usually charges other clients. In the meantime, he says that Otherworld Fitness continues donating money to Helping Up Mission.