40 Years Of Cathy Hughes' Leadership At Urban One
Keith L. Alexander | 1/17/2020, 6 a.m. | Updated on 1/17/2020, 6 a.m.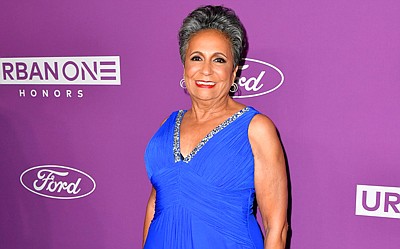 OXON HILL, Md. – Inside the illuminated MGM National Harbor towering over the Potomac River, the 3,000-seat theater slowly fills with African Americans donned in tuxedos and gowns as Hollywood's and New York's top entertainers mix with some of Washington, D.C.'s bourgeoisie including politicians and business leaders. All have gathered to celebrate the 40th anniversary of Urban One Inc., the nation's largest distributor of news and entertainment aimed solely at black consumers, which also includes the largest African American owned TV network.
The media company that for decades was known as Radio One Inc. for its stable of radio stations across the country, changed its name in 2017 to Urban One, a new name that reflects, its owners believed, its channeled mission of providing media content to urban audiences via all forms of media through its divisions including radio, television programming with its TV One cable network and now the Internet.
Still at the helm of Urban One is the legendary woman with the mic, camera and now computer keyboard is the company's founder and chairwoman, Cathy Hughes. On this recent night, the 72-year-old energetic and spirited Hughes is also serving as co-host for the 40th anniversary Urban One Honors awards show with comedian Chris Tucker, which is scheduled to air Hughes's TV One network Jan. 20.
The show, however, is already running late before it even began. Taping was supposed to begin 20 minutes or so ago. But people are still slowly filling their seats. Then, to a round of staccato applause and without an introduction, Hughes, with her broad smile, walked onto the stage. She apologized for the late start. The staffing at the entrances of the MGM, she said, have been slow in allowing audience members through the doors. "But I'll take care of this," she said while putting a finger in the air.
Hughes disappears backstage. And within 10 minutes, as if a dam burst, audience members began rushing into the theater to their seats. Minutes later, the orchestra begins playing and Hughes and Tucker walk on stage arm in arm to begin the two-hour show.
No one messes with Cathy Hughes, especially when she is their boss. That's right, in addition to the various entertainment companies, Urban One also owns nearly 7 percent of the $1.4 billion, MGM casino, hotel and resort, a purchase the company made when the resort opened three years ago.
As the nation celebrates the birthday of the Rev. Dr. Martin Luther King Jr. this month, those who knew King well, say Hughes and Urban One are the epitome of King's dream. Dr. Benjamin Chavis, who worked as a youth leader for King in the 1960's, said Hughes was able to break through the historically, white male controlled world of media ownership and create her own media company that she uses to not only to reach millions of people around the world to ensure that the voices of African Americans continue to be shared and visible.
"Urban One continues to fulfill Dr. King's dream," Chavis said. "The best way to celebrate black history is to make more history. Cathy Hughes continues to make black history." Chavis is now head of the National Newspaper Publishers Association, made up of more than 200 black-owned newspapers across the country.