Vehicle for Change gives away 20 cars in celebration of 20th anniversary
By Demetrius Dillard | 7/10/2020, 6 a.m.
Vehicles for Change (VFC), a nonprofit headquartered in Halethorpe, celebrated its 20th anniversary by joining longtime partner Heritage Mileone Autogroup by presenting 20 families with vehicles in special giveaway ceremonies on June 24, 2020.




One of the organization's primary focuses is to put less fortunate families on the path to self-sufficiency through its sustainable car award program and re-entry training program.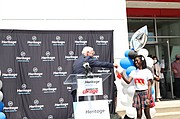 According to its website, VFC has awarded more than 6,000 cars to low-income families since 1999. The vehicle giveaway on June 24, 2020 was a two-part celebration. The first ceremony was in the morning when Listra Williams, a certified nursing assistant at Northwest Hospital in Randallstown, was pleasantly surprised with a vehicle during her shift at work.
Northwest Hospital president, Craig Carmichael, joined MileOne Autogroup Chief Operations Officer Scott Fader and VFC Executive Director and founder Marty Schwartz in handing Williams keys to her car. The 19 remaining recipients were given cars at the main ceremony in the afternoon at Heritage Toyota in Owings Mills.
"A car impacts a family that is just unlike anything else so it really makes an enormous difference," said Schwartz, also the founder of VFC. "Our statistics show that 75 percent of families that get a car from us within the first 12 months of car ownership increase their annual salary by $7,500."
The partnership between Mile One and VFC dates back five years. Steve Fader, president and CEO of Mile One, reached out to Schwartz and his team with intentions of furthering the mission of facilitating car ownership in the Baltimore area.
"Vehicles are transformational— go to work, go to the doctor's, go to the grocery store. When you don't have a vehicle, your life becomes very difficult," Fader said. "So we love this partnership and we look forward to continuing it for years."
VFC and Mile One also partners in training formerly incarcerated individuals to become auto mechanics. In addition to donating dozens of vehicles to VFC, Mile One has contributed $75,000 this year to the nonprofit, according to Fader.
The afternoon ceremony was relatively brief, and included remarks from Mayor Bernard "Jack" Young, Schwartz, Fader and others.
"This is something that is very, very important for young people and families who don't have cars," Young said, acknowledging the philanthropic efforts of VFC and Mile One. "You can connect with your cars in anywhere you want to go, whether it's work, whether it's taking your kids to an amusement park, whether it's to ride just for fun. This is really a wonderful, wonderful gesture by your (Fader's) team."
Brittaney Nelson, a young mother with twin toddlers, was one of the event's special recipients. She had been without reliable transportation for well over a year, and had spent roughly $700 to $800 a month for Uber rides.
Nelson said the gift from VFC was the push and change needed to put her life back in order, adding that she will also have the time and opportunity to complete on-campus college courses with goals of obtaining a long-sought-after degree in business administration from the University of Maryland Global Campus.