Brandon Scott poised to become Baltimore's next mayor after winning Democratic primary
Demetrius Dillard | 6/19/2020, 6 a.m.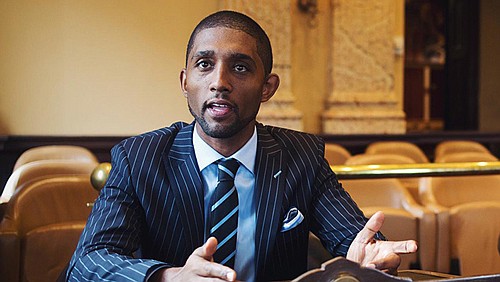 After a week-long wait, Brandon Scott has sealed the Democratic nomination for mayor, confirming his on the evening of June 9, 2020.
Former mayor Sheila Dixon initially held a sizable lead over Scott after the first set of ballots were counted. The Baltimore City primary election, held June 2, 2020, was riddled with a number of issues, including a "small proofing error" on ballots in District 1, difficulties with incorrect mail-in ballots and wrong dates being printed on some ballots which led to counting delays.
However, as updated results were released over the weekend into the early part of this week, the numbers showed that Scott narrowed the deficit and retained a lead on his way to victory.

As of the night of June 9, Scott edged Dixon by a margin of nearly 2,400 votes, sealing the win for the 36-year-old from Park Heights. According to the state board of elections, Scott has 42,798 votes (29.4 percent) to Dixon's 40,418 (27.7 percent).
He delivered an acceptance speech outside of his grandmother's home in Park Heights amongst family, supporters and community members at a press conference on June 10, 2020.
Scott began his remarks by expressing his lifelong desire to serve Baltimore and his intentions to build a new way forward for the city, highlighting gun violence, rebuilding trust in local government, public safety and investing in the youth as some of the prominent issues he plans to address as mayor.
"Our campaign was about showing that we could bring people together around a shared vision for Baltimore," he said. "Our campaign was about proving to the world that a young Black man who grew up in the forgotten Baltimore here in Park Heights could survive everything that you have to live through in Baltimore… to be the leader of this city."
He went on to commend Dixon, who served as the city's first female mayor from 2007 to 2010 before resigning.
"To Mayor Dixon, I want to say thank you. I want to say thank you for running a clean race about the future of Baltimore City; thank you for showing people that Baltimore does believe in second chances; and thank you for remaining committed to the city of Baltimore for your entire service and your entire life," Scott said.
Scott, who fueled his campaign on the slogan "a new way forward," was endorsed by The Baltimore Sun and emerged as the favorite in a field of more than 20 Democratic mayoral candidates, also including Mayor Bernard "Jack" Young, Mary Miller, Thiru Vignarajah, T.J. Smith and Carlmichael Stokey Cannady.
Young, who took over in the stead of former mayor Catherine Pugh after she resigned in 2019, also received acknowledgements from Scott.
"To my good friend Mayor Young— I want everyone to join me in thanking the mayor," Scott said. "The mayor who took over city government amidst another corruption scandal, who immediately faced the issues around the cybertech in Baltimore, who had to deal with the continuing gun violence epidemic and now a global health pandemic. His service to the city of Baltimore during these trying times has been very admirable and we owe him a debt of gratitude."