Dr. Shirley Basfield Dunlap Beloved Morgan Professor 'Played a Part' in Many Lives
Ursula V Battle | 6/26/2020, 6 a.m.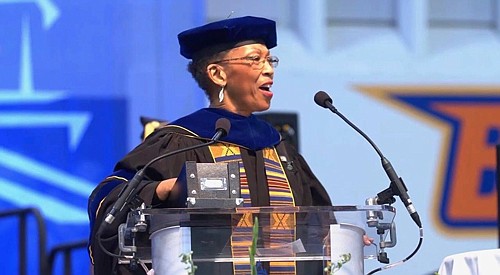 She added, "Shirley didn't just give nuggets. She gave boulders you could run with to be successful. I will continue to tell her story."
Cheryl J. Williams is Dr. Basfield Dunlap's longtime companion.
"We met 33 years ago," said Williams. "My fondest memories are our travels. We traveled all over the world to places and once took a nine-day road trip. We could have flown, but we wanted to take a historic trip. My life with Shirley was awesome. There is no hurt or pain. I am blessed to have had the time we spent together."
She added, "I think Shirley's legacy was giving unconditionally. To know that the best is in each one of us. She had the gift and the talent to pull it out. Her other legacy was for people to create your art regardless of what that art form is, and to bring it forth."
Carol Pitts met Dr. Basfield Dunlap through One God One Thought Center for Better Living.

"My fondest memory of Shirley was on a cruise to Alaska," said Pitts. "She was very gracious to my granddaughter who was going away to college. She gave her a gift with some money and told her 'to never go on a date without your own money. In case something happens, you have your own money to get home.' She was such a good-spirited person and very humble. She never let her job or titles define who she was. She was just Shirley. A wonderful human being who touched a lot of lives."