Women's History Month: Uni Q. Mical
Cieara A. Adams | 3/3/2020, 10:10 p.m.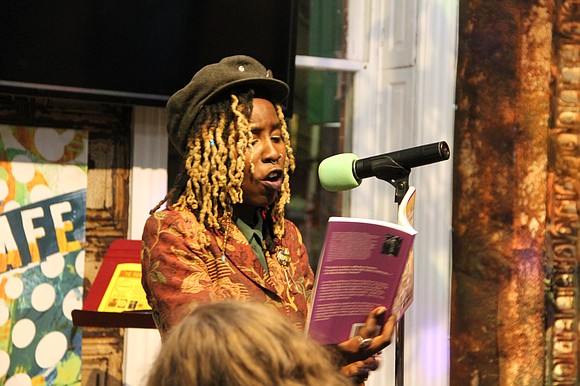 Uni Q celebrates the release of their first self published book. '4 Wings and a Prayer' (4WNAP) with a poetry reading party at Terra Cafe. (101 E 25TH, ST, 21218)
I had the pleasure to attend this phenomenal book release and Poetry Party at Terra Cafe and it was truly a UNIque experience. Uni read exclusive, never before heard out loud poems from Four Wings and A Prayer, alongside some incredibly talented students from their Frameworks Course (aka #Decolonizingyourmind) The students from THE Chezia Thompson's Course read their poetry as well.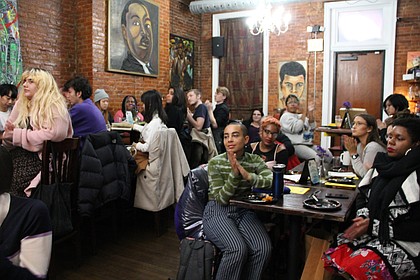 Unique Mical Robinson is a queer writer, performer, host, artivist, educator, & proud Baltimore native.Since age 13, she has had the fortune of connecting and performing with various communities throughout the US, and even Havana, Cuba. She received her MFA in English & Creative Writing from Mills College in 2014, and holds a BA in Creative Writing/Black Studies from Hampshire College in 2009. In her lifetime, her passion has led her to ensure healing and resources remain accessible to all. She has worked in a number of activist circles, artist collectives, and direct action campaigns, including increasing funding for Baltimore City Public Schools in her youth, affordable housing for people with HIV/AIDS and ending police harassment of people of color, as a Community Organizer for VOCAL-NY in Brooklyn, NY, Reproductive Justice for women of color, and increasing mass visibility of LGBTQ+ issues and identities. She worked as an Academic Mentor for youth in Oakland's Unified School District, and upon returning to Baltimore in 2015, became a Teaching Artist and Program Director/Operations Manager for DewMore Baltimore.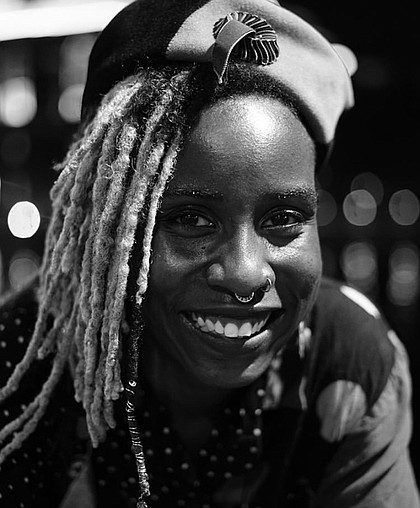 In addition to being Humanistic Studies Faculty at MICA (oldest continuously degree-granting college of art and design in the nation in Baltimore), she is also an award-winning Poetry/Theater Arts Integration Educator with Baltimore City School students, and Co-Founder of blkottonkandy, an arts & wellness initiative.
PLEASE CHECK OUT THE INTERVIEW BELOW:
Is there a desired demographic of readers you'd like your book to appeal to?
The folks that grew up in a generation of the 1980's/1990's and had to live through a lot of things that we just genuinely did not understand but I was a kid that always wanted to understand how things got to be the way that they are, so this is a book for the folks that lived through some very trying hard times, some failed policies, and we were kind of the result of that, but this is also for the people not from Baltimore but who have experienced similar plight growing up in other cities, so black youth. I had a friend in DC who was really moved by it because of what she experienced. Black youth everywhere, Brown youth everywhere, it's for queer folks, it's for white folks who might not know the other side of the story but dare to take a glimpse into it, this is our story...forreal.
What led you to self publish?
(laughs) So honestly it was out of necessity, I was broke (Laughs) when I moved back to Baltimore, so this whole manuscript was actually my grad school thesis. 2013 around that time I started writing it and I was looking at my folks, my cohorts, colleagues if you will and especially fiction writers they all had to find agents and do all these things and like get somebody that's going to publish their stuff and it just felt arbitrary to me, the process of it and I was like what are people doing that I can't do?, what did they learn they I can also learn?,you know what I mean? It can't be difficult and in the process of writing I basically released a "Chapbook" And I realized how easy that process was, it was a bunch of formatting and different things like that and me being the editor of my script, once I was done with it I was like there's no way I cant possible figure out how to do this myself, right? And just talking to other people and other friends of mine who have released and self published things through amazon, kindle, create space all of these different places and I was like " Oh" the platform is there, I just need to walk into it and get over those self doubts and all of those things and once I did that I literally taught myself InDesign, graphic design. I took on this job, kind of teaching the students but they were also teaching me and in that process I realized I can just make a book, I can do this. Last year is when it really clicked to me that I have all this access to tutorials, being faculty at MICA that I could use and utilize to help show me the ropes of how to create a book step by step and with that I was like ight, lets go, lets do this myself, So, one, it was out of necessity and being broke and did not want to pay anybody else cause I couldn't and two, it was also just a way for me to gain additional skills under my belt via self publishing so I'm really happy about that.