'Community Conversations' Series Culminates With Dialogue On Health
Demetrius Dillard | 3/13/2020, 6 a.m.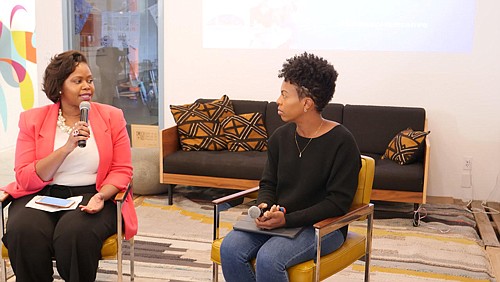 "I think any time you give folks a chance to come together and ask questions and talk, there's an impact on the community," said Osore, director of ShareBaby, a local nonprofit that provides diapers and clothing items for families in need.
"I feel like a lot of folks in our community want their voices to be heard, and so events and forums like this really give people that opportunity. So I think people, hopefully, will leave feeling more empowered or at least like they learned something."
Similarly, Sade Brown attended the community conversation with an open mind ready to hear the various perspectives and insights for a healthier Baltimore. She said she was captivated by Cohen's advocacy toward treating trauma-related issues in the city.
"Councilman Cohen, hearing him speak about the bill and the things that he's pushing, especially around youth trauma, definitely piqued some interest from me because I'm from Baltimore and I've experienced quite a bit of trauma myself," said Brown, a yoga instructor.
"So for him to push that, it really piqued my interest to want to know more."
If there's anything that the Baltimore Times Community Conversations has proved, is that there is indeed remarkable work being done in the community but it goes unnoticed because it often happens in siloes.
"The fact that there's so many young people who attended... this conversation, it tells me that we have a lot of young people interested in the Baltimore Times," Bramble said.
"I think talking to each other in community in a non-threatening way, in a fun way, where everybody's ideas are accepted… makes a big, big difference and it helps community."
RESOURCES SHARED A 'VISION FOR A HEALTHIER BALTIMORE' Community Conversation 03/07/20:
-healthcareforall.comrxresolutions
-cdc.gov
-sheperdsclinic.org (Free Health care for the uninsured)
-www.brunchnburn.com, @brunchnburn_
-www.drinkmorewaters.com, @runnersun_, @morewaters.co,@nellynelle19 - resultswithnelly.com
-Google " Elijah Cummings healing city Baltimore