Watch: Governor Hogan Discusses Maryland's COVID-19 Response On FOX News, CNN, MPT
Office of Governor Larry Hogan | 3/23/2020, 9:42 p.m.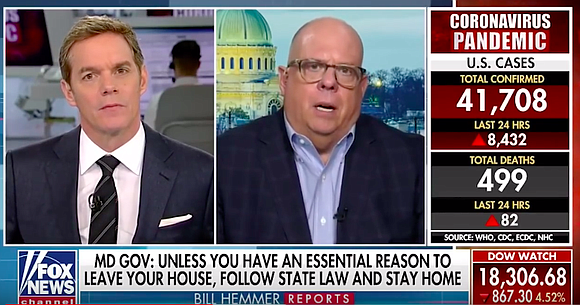 Governor Larry Hogan today joined Fox News' "Bill Hemmer Reports," CNN's "The Lead with Jake Tapper," and MPT's "Direct Connection" to discuss the latest in Maryland's ongoing efforts to combat the spread of COVID-19 in Maryland.
Earlier today, Governor Hogan announced a number of new COVID-19 mitigation measures, including the closure of all non-essential businesses, the creation of a $175 million economic relief package, updates to Maryland's public health surge plan, and an emergency order to prevent price gouging.
Fox News:
"Well, first of all, I want to thank the president and the vice president for doing a really good job of communicating with all the governors. This was our fifth straight call just over the past couple of weeks. We had 52 governors on the call, it was led by Vice President Pence. We just hung up right before going on the air with you, and we addressed a number of the priorities for the governors. We were just talking a moment ago about Title 32 and the National Guard. It's not really the president calling up the National Guard. The individual governors are calling up the Guard. We've got 2200 guard members here activated in Maryland. Title 32 gives us some flexibility and allows the federal government to help pay for some of these citizen soldiers. Here we've got them doing humanitarian missions, helping set up hospitals and feeding hungry kids and things like that. So it's really helpful to have Title 32 assist the governors and pay for those folks that are out there doing great things in the states."
—
"We've taken continual steps that seemed almost unheard of, these unprecedented steps that we couldn't possibly have imagined a week or two ago. But now, they become absolutely necessary. As we talk to the expert doctors from places like Johns Hopkins and the University of Maryland, NIH, and they've talked to us about catastrophic failures of the health care system. If we don't do something to stop this spike in this curve, the fact is we're not gonna have ICU beds and we're not gonna have ventilators and we're not gonna be able to protect. If you just look at what happened in places like Italy, what's happening now in New York. We just don't want that to happen in each of our states."
CNN:
"Certain states are taking different steps. Ours are somewhat more restrictive than many of the states that are calling it 'shelter-in-place.' We've directed and strongly suggested that people stay in their homes unless they really need to leave for certain essential purposes. But we've closed more businesses than many of those states that have so-called ordered shelter-in-place. But we've been one of the most aggressive states in the country, one of the first to declare a state of emergency, one of the first to close schools, one of the first to close bars and restaurants, ond our actions today go pretty far…We're adding 6,000 hospital beds, we've got FEMA is opening up a 250-bed hospital in our convention center in Baltimore. And we're doing everything we can to not only take steps on social distancing but to really ramp up and deal with this massive crisis we're going to have with providing health care to all of these folks. And we're also trying to address the impact of the economy that you were just talking about. We announced a number of steps today to help our small businesses and those people who are losing their jobs, which is kind of a dual attack at the same time: how do we save lives, and how do we also help people economically."