Dr. E. Lee Lassiter Telling The Black Community's Story The 'Write' Way
Ursula V. Battle | 5/8/2020, 6 a.m.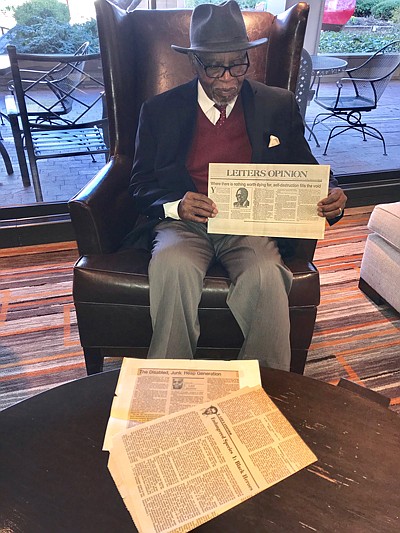 The year was 1961. Having earned a B.S. degree in Secondary Education from Tuskegee Institute (now University) and a M.S. in Journalism from Boston University, Dr. E. Lee Lassiter prepared to make his way into the field of journalism. With two college degrees, and a journalism background that dated back to his high school days, the North Carolina native thought a newspaper might "scoop'"him up. But his hunch was wrong.
As I completed my course work at Boston University, I tried to get a job like everyone else," recalled Dr. Lassiter. "But not one white paper would hire a black journalist."
He added, "While searching nationwide for a position, I applied for a job in Boston University's News Bureau and was hired as a reporter." He resigned a few months later to fulfill deferred military obligations.
By then he had married the late Hannah Louise Lassiter, a fellow 1959 Tuskegee alumnus and classmate. He resumed his futile job search while on active military duty.
"I eventually circled back to North Carolina. I asked a newspaper in that area for $4,000 a year, and was told not to price myself out the market. Meanwhile, my white Boston University classmates were turning down $7,000-per year jobs. I came to Baltimore. The AFRO-American Newspapers offered me $4,000, and I took it.
"I was hired as a copy editor for The AFRO's National Edition. The AFRO had seven or eight editions and a national edition at the time. The beauty of my editing job was that I also got to do interviews and write news stories, features and editorials."
Dr. Lassiter worked at The AFRO-American Newspapers from 1960 to 1965. He recalled working alongside the likes of Moses Newson and the late Jimmy Williams, Bettye Murphy Moss, George Collins, Sam Lacy, Ida Peters, and others.
"I also worked at The AFRO with the late Jack L. Hodge, who was an editor for the paper," recalled Dr. Lassiter who will turn 84 in July.
Hodge and Dr. Lassiter would go on to become the first African-Americans to be hired by The News American in the Editorial department. Hodge joined the publication in 1964, and Dr. Lassiter followed in 1965.
"Jack Hodge let me know when there was an opening and I applied. He opened the door for me. All across the country, there was a push to get blacks in the media. Jack Hodge brought other blacks in and expanded the base of minority writers.
"It was the 1960s. It was a time of Dr. Martin Luther King, Jr. and breaking down racial barriers. The black community was demanding change and there was no connection with the white newspapers. But The News American formed an Urban Affairs division, and formalized my role of helping the newspaper connect to the community."
During Dr. Lassiter's 21-year career with The News American, he served in most of the editorial posts in the department including assistant city editor and entertainment editor.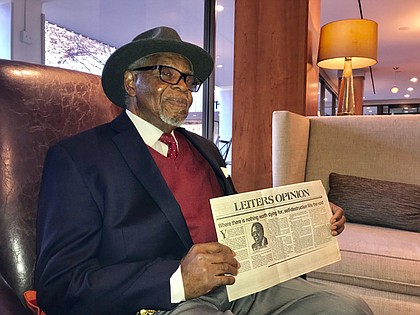 "From the inside, I was able to show the paper how to look at the black community beyond a photo op. Being the second black in editorial was a huge opportunity to move the Civil Rights attitude ahead."