Ravens and Pernell McPhee reunite for another year
Tyler Hamilton | 5/12/2020, 10:28 a.m.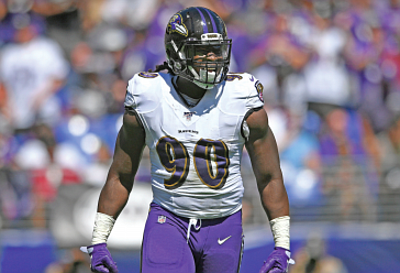 The Baltimore Ravens have agreed to a one-year-deal to bring veteran outside linebacker Pernell McPhee back for another season. Over the years, the Ravens have relied on their defense to build their tough, blue- collar reputation. Five of the 11 names on the Ravens' ring of honor were defensive players. Even though McPhee may never see his name up there with the likes of Ray Lewis and Ed Reed, he has been a key part of the team's history.
The offense uncharacteristically drew most of the attention last season. NFL MVP Lamar Jackson produced one of the most dynamic seasons ever by a quarterback. Baltimore averaged 31 points per game— a league best.
After a 28-12 loss to the Tennessee Titans in the divisional round of the playoffs at M&T Bank Stadium, the Ravens are focused on building their defense through free agency this offsea- son. Signing McPhee gives them another defender that can help Baltimore return to the days of having a top defense.
McPhee was the 165th pick in the 2011draft but made his mark early in his career as a Raven. As a rookie McPhee posted six sacks. In his second season McPhee played a critical role during the playoffs when the 2012 Ravens team won the franchise's second Super Bowl title.
After stints with the Chicago Bears from 2015 – 2017 and the Washington Redskins in 2018, McPhee returned to Baltimore last season.
McPhee was able to revisit his days as a disruptive player by registering three sacks, six QB hits, 19 tackles and seven tackles for a loss on seven games last year. Unfortunately, he missed the last nine games of the year after suffering a triceps injury in Baltimore's week seven win over the Seattle Seahawks.
Ravens head coach John Harbaugh hinted at the possibility of bringing McPhee back for another season last year. He felt that McPhee still had some productive football left in him. Har- baugh also praised how McPhee set the example for the younger players, specif- ically the outside linebackers.
"He's been instrumental with the young guys. He's been a very good player for us," Harbaugh said after the Seahawks game.
The player who benefited the most from working with McPhee is perhaps third-year outside linebacker Jaylon Fer- guson. The season, Ferguson and sixth- year linebacker Jihad Ward will compete with McPhee for playing time.
Defensive coordinator Don 'Wink' Martindale used outside linebacker Matt Judon all over the field last year. That's the way former defensive coordinator Dean Pees once featured McPhee. Mar- tindale will get another player that can be employed in different alignments to attack opposing teams.
It's a win-win situation for the Ravens and McPhee. Baltimore retains a player who fully understands and embodies what it means to "play like a Raven." The veteran player will have a presence in the locker room and set the tone for younger guys such as rookie Patrick Queen and Justin Madubuike.
McPhee will get to play for the team where he had lots of success and also where he has some unfinished business after having his last season cut short by injury.