Entrepreneurial flexibility keeps business afloat during pandemic
Andrea Blackstone | 5/15/2020, 7:36 a.m.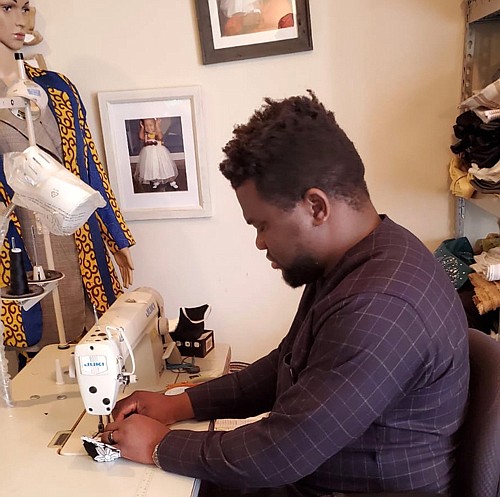 Purchasing a facemask is a new experience for many overwhelmed online shoppers, many of whom want to support brands made in the U.S.A. Buying from small businesses like Soluade Couture LLC (Soluade Couture) sends a message that buyers are actively rooting for local entrepreneurs to financially survive the pandemic.
The Prince George's County based company exemplifies the value of embracing entrepreneurial flexibility with a twist.
Not too long ago, the owners of the company— husband and wife team— Abiodun Soluade and Jillian Soluade— specialized in men, women and children's custom clothing designs. Abiodun, who works as the company's lead tailor, has been sewing for 20 years, a skill he learned in his homeland, Nigeria. Jillian serves as Soluade Couture's creative director.
Jillian noticed that many essential workers in post offices and grocery stores faced a shortage of disposable facemasks. Plus, she was told that in some cases workers were required to provide their own.
This observation gave her the idea to modify the company's product offerings to include facemasks. Jillian shared the idea with her husband who agreed to explore the option. Now, the company has been selling stylish facemasks in Maryland and beyond since late March.
"As time went on, we realized that the whole epidemic was bigger than we thought, so we started taking part in [making masks]," Jillian said. "We [knew] a few people who worked in nursing homes [and] are on on-call duty, like RNs and CNAs (certified nursing assistants). We have donated masks to them because they work endlessly and tirelessly."
"We are all in this together, and we will get through this together," Governor Larry Hogan stated on his Twitter account in early April.
Along with maintaining the six feet social distancing requirement in order to slow the spread of coronavirus, the Centers for Disease Control and Prevention (CDC) guidelines changed to recommend the use of cloth face coverings. Governor Hogan then mandated the use of face coverings or facemasks by executive order whenever individuals went to the grocery store, the pharmacy, on public transportation and other public places in the state.
Following that, it's easy to understand why Soluade Couture's business started picking up due to high demand. Jillian's mother, Jenn Jones who joined the company as their human resources professional and assistant tailor began to provide assistance when sales surged.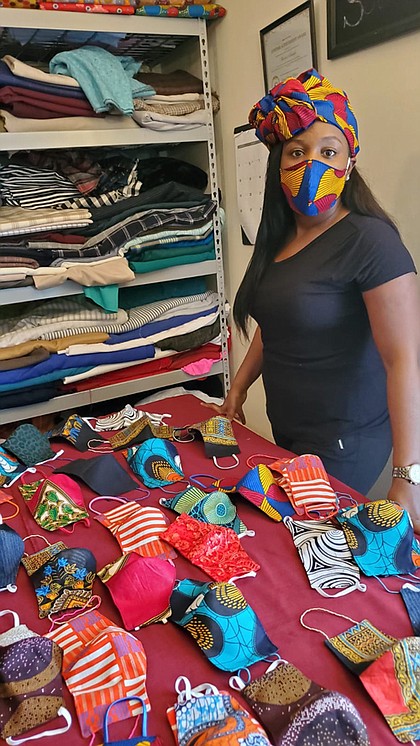 The entrepreneurial team is currently working to fulfill a facemask donation request for a local nursing home and a contract for a charter school staff as they prepare for Teacher Appreciation Day this month. Giving back to the community is a part of what Abiodun and Jillian are doing, but selling masks also helps to fill in monetary gaps left by COVID-19.
"Due to the pandemic, our business has been impacted, since the mandated law of social distancing. We have been blessed to stay afloat making masks for new and returning customers," Jillian said. "We are offering an ongoing discount for healthcare workers when they purchase online, using a discount code, and once they send in proof of ID."