The American Legion pays tribute to America's fallen veterans
5/22/2020, 6 a.m.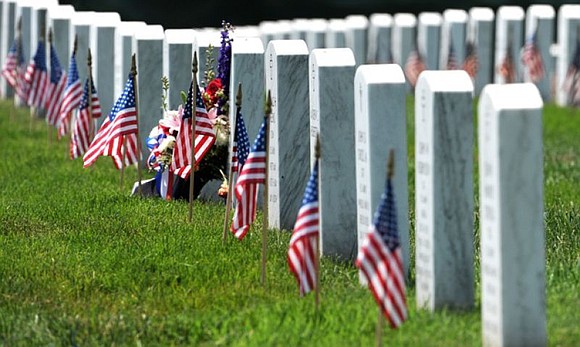 Every crisis has new heroes. During the 9/11 attacks, they were the first responders running into burning and crumbling buildings as others ran out. Now, during the Coronavirus pandemic, the most visible heroes are the health care professionals, who are saving others and risking their own lives while doing so.
These heroes have much in common with the people that we honor today – America's fallen veterans. They are men and women who have sacrificed their own lives so others could live. They are both elite and ordinary. They are elite in the sense of character. Giving your life so others could live is the ultimate definition of selfless.
They are ordinary in the fact that they represent the diverse fabric of our country. They are rich and poor, black and white, male and female. They come from every ethnicity and background. In short, they looked like anyone of us.
As we celebrate the selfless and untiring performances of the healthcare workers during the COVID-19 pandemic, it brings to mind the military medics, doctors and nurses who sacrificed their lives while treating others on the battlefield.
One such hero was Pharmacist Mate Third Class Jack Williams. The Navy Reserve corpsman was only 20 years old when he landed on Iwo Jima 75 years ago.
On March 3, 1945, James Naughton, a Marine in Williams' unit, was wounded by a grenade. While under intense enemy fire, Williams dragged Naughton to a shallow depression and treated his wounds. Williams used his own body as a screen and was shot four times. Yet he continued.
After he treated Naughton, Williams dressed his own wounds. He then proceeded to treat another Marine, despite his own immense pain. While heading to the rear, he was hit by a sniper's bullet and killed. For his actions, Petty Officer Williams was awarded the Medal of Honor.
We also remember Army veterans like Lieutenant Sharon Lane.
According to her biographer, Philip Bigler, Lt. Lane threw herself into her work as a nurse. While serving in Colorado, she requested a transfer to Vietnam.
"There, at least, you are busy 12 hours a day, six or seven days a week," she said in a 1968 letter to her parents.
Her dedication was obvious, even as she treated enemy Viet Cong soldiers who would return the favor by kicking, cursing and spitting at their American captors.
In the early morning of June 8, 1969, Sharon's tour of duty ended. A Soviet-built rocket struck the hospital. Lieutenant Sharon A. Lane was killed in action at age 25.
If she were still here, her skills as a nurse might still be benefiting us during the current crisis. But not all of the heroes working during the COVID-19 pandemic are in the healthcare industry. Grocers, first responders, delivery workers and drive-through restaurant employees are just a few of the many people that we rely on to provide vital services for society while risking their own safety.
The military also has heroes in every occupational field. Truck drivers, cooks and administrative clerks have all paid the ultimate price. At sea, on land or in the air – military service requires great risk.