Make your own chocolate Easter bunnies
4/2/2021, 6 a.m.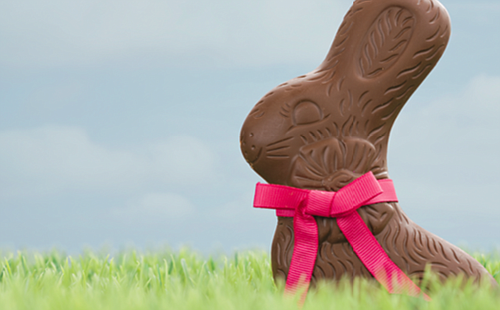 The Easter bunny is a tradition that has been passed down for centuries. Sym- bolizing fertility and wealth, the Easter bunny became a holiday standard in Germany during the 16th century.
The custom of chocolate eggs came along centuries after the Easter bunny, originating in the 19th century in France and Germany. As Easter celebrations evolved, chocolate eggs were not the only delicacy; chocolate Easter bunnies also were shared and enjoyed.
While there are scores of mass-pro- duced chocolate bunnies available for purchase, and many local chocolatiers also make Easter bunnies and other sweet treats, families may want to try making their own chocolate Easter bun- nies this year. This can be a family- friendly activity that favors togetherness with the promise of a sweet reward.
The first step to creating chocolate Easter bunnies is to select the type of chocolate you prefer. Bunnies can be made from white chocolate, milk choco- late, dark chocolate, or even a combina- tion for a marbleized effect. Chocolate melts, chips or chocolate couverture are widely available at specialty chocolate and food shops or craft supply stores, ac- cording to DoItYourself.com. This sim- plifies the bunny-making process. Some retailers also may sell bunny-making kits that pair the chocolate melts with the mold in one box for ultimate conven- ience.

Craft stores also have aisles devoted to culinary crafts. Browse to find an Easter bunny mold. Some may sell solid chocolate bunnies or hollow varieties. Choose molds in the desired size, as bunny molds may be large or small.

Follow directions to melt chocolate successfully. Some chocolates can be slowly melted in the microwave. A dou- ble-boiler method, in which the choco- late is melted in a bowl placed above a pan with boiling water, can help the chocolate melt consistently and prevent it from burning.

Pour the chocolate into the mold and gently tap the mold so that it dis- places air bubbles and helps the choco- late settle evenly into the design. Allow the chocolate to set up in the refrigerator. If your mold is hollow, you can seal the two halves of the bunny with a little melted chocolate on the seam.
Creativity can be unleashed when making homemade chocolate bunnies. Experiment with adding a few drops of peppermint oil or orange liqueur to cus- tomize the flavor. Before sealing hollow bunnies, place peanut butter or raspberry jam inside for a tasty surprise. Use col- ored candy melts to add colorful eyes or cheeks or to tint the inside of the bunny ears.
For an even more festive effect, seal a lollipop stick in a chocolate bunny and use it to secure the Easter bunny to the top of a cake.