Local Baltimore organizations provide handicap accessible van to police Sgt. Isaac Carrington
1/8/2021, 6 a.m.
Baltimore— Following a shooting out- side his home in August 2019, Sgt. Isaac Carrington, then a 22-year veteran of the Baltimore Police Department, spent weeks at Shock Trauma recovering.. On Tuesday, January 5, 2020, he got a lift when representatives from MileOne Au- togroup and its nonprofit arm Wheels for Change, The Signal 13 Foundation and the Baltimore City Lodge #3 Fraternal Order of Police (FOP) presented him with a handicap accessible van. The or- ganizations joined forces to raise the necessary funds for the vehicle totaling over $70,000, which was outfitted by and purchased from Bedco Mobility.
"With the donation of this accessible van, I can now look forward to recov- ery," said Sgt. Carrington. "This gener- ous gift of mobility makes it possible for me to get my life back together and move forward. I am very thankful for all the support."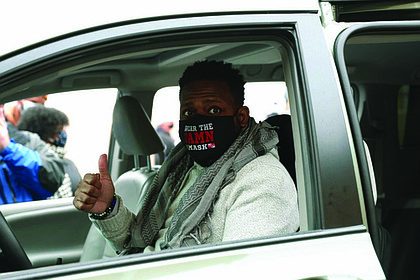 The FOP, which orchestrated the fundraising effort and pledged the initial funds, worked closely with Signal 13, an organization dedicated to providing fi- nancial assistance to qualified Baltimore City Police Department personnel, both civilian and sworn, who experience un- expected financial hardship, to drive awareness to the effort.
"Signal 13 was founded in 1983 by a former police commissioner and local philanthropists to help injured officers like Sergeant Carrington. Signal 13 is a not-for-profit with a mission to support Baltimore police families and make their lives better. We are honored to support Sgt. Carrington as he begins this new chapter," says Nancy Hinds, CEO of the Signal 13 Foundation.
Signal 13 board member, Steve Fader, CEO of MileOne Autogroup and presi- dent of Wheels for Change, its nonprofit arm providing relief to organizations in the community who struggle with trans- portation, learned of the fundraising ef- fort during a recent board meeting and pledged on the spot.
"We know from our many years of providing vehicles to those in need that transportation is transformational," said Fader. "Being able to do this for Sgt. Carrington is a great honor and privi- lege."
With the necessary funds raised, Bedco Mobility was approached to outfit the vehicle— a 2019 Toyota Sienna specifically for Sgt. Carrington's needs.
Fifteen hours of driving lessons and a special driver's license from the Motor Vehicle Administration are required in order to operate the accessibility van.
"I'm extremely grateful for the collab- orative effort of the FOP, MileOne Auto- group, Wheels for Change, and the Signal 13 Foundation in supporting Sgt. Carrington. Their generosity helps him have some mobility and normalcy, which is greatly appreciated," said Balti- more City Police Commissioner Michael S. Harrison who joined Sgt. Carrington and representatives from each of the or- ganizations at the Baltimore Police FOP Lodge #3 for the presentation.