Weathered Ravens ready for playoff push
Tyler Hamilton | 1/15/2021, 6 a.m.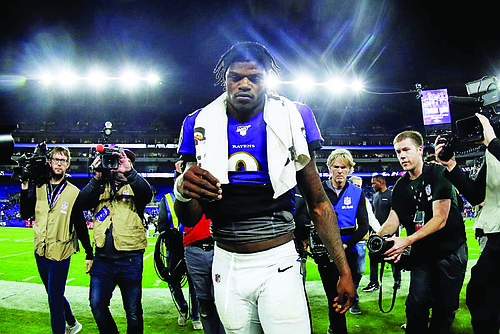 The old saying, "Whatever doesn't kill you makes you stronger" applies perfectly to this year's Baltimore Ravens. They've been through it all...from a Covid-19 outbreak to injuries across the offensive line to a three -game losing streak that had many pundits writing them off for the season.
Despite all of that, the Ravens weathered the storm and finished with an 11-5 record. The adversity they faced made them a tougher team. That's what Ravens coach John Harbaugh preaches to his players.
"Everybody understands what it [toughness] means. It's a little tougher to execute, because so many things conspire against us to quit, to stop, to throw our hands up [and] to not finish," Harbaugh said. "It's really irrespective of the outcome. It really doesn't matter about the outcome. What matters is how you handle it, how you approach it, [and] whether you stick to it or not. That's what finish, means and our guys have done that. It's led to great outcomes. Hopefully, that's something they'll take with them for the rest of their lives and teach their kids about." The Ravens won five games in a row to close the season and snatched the No. 5 seed in the AFC playoff picture. Baltimore's 47-42 win in Week 14 was a catalyst in their ascension.
That game is another example of how the Ravens fought adversity and came out on top. Lamar Jackson was in the locker room for most of a late drive. Backup quarterback Trace McSorley suffered an injury and Jackson scrambled back into the game to compete a 44-yard touchdown pass to Marquise Brown that made the score 42-35 after the two-point conversion.
All of the talk heading into last week's wildcard matchup against the Tennessee Titans in Nashville was centered on Baltimore not being able to win a playoff game. The narrative was mostly focused on Lamar Jackson who was 0-2 in the playoffs.
Jackson squashed that talk and led the Ravens to a 20-13 road win to advance to the divisional round of the playoffs. The often questioned but dynamic playmaker crushed a few narratives with the win.
"It's something that he won't have to talk about in the future, and that's a meaningful thing," Harbaugh said after the game.
It was his first playoff win and his first win when down by 10 or more points. Critics have always nitpicked Jackson's game saying he couldn't throw outside of the numbers. Two of his best throws against the Titans were completed outside of the numbers.
But it wasn't just Jackson. The Titans gathered on the Ravens logo in the middle of the field before their 30-24 Week 11 win over Baltimore at M&T Bank Stadium. The Ravens took the meeting on the logo as disrespect even though the Titans do that before every game.
"I feel it was just disrespect to see what went on before the game the last time we played those guys, and they were standing on our logo and seeing them get into it with our coach," Jackson said. "That was just disrespectful, because we treat all of our opponents with respect. It wasn't no reason for us to shake hands and stuff like that. We'll be the bigger guy so we just walked off the field. I feel like we were being the bigger guys."
It was fitting that Marcus Peters led a celebration on the Titans' logo after a game-sealing interception with little time left on the clock. Peters' actions and how the others followed were a sign a unity according to the players.
"This is an emotional football game. Sometimes you act out of emotion," Ravens defensive end Derek Wolfe said. "I felt like it was a good time to go ahead and do that— so we did it. It wasn't a disrespect thing. It was a team unity thing like we accomplished something as a team, so we're going to go out there and take a little bit of revenge."
The next challenge for the Ravens will be to travel to Buffalo for a divisional round battle with the No. 2 seeded Bills. There will be a new form adversity for Jackson; snow. Jackson, a Florida native has never played in the snow and he's hoping it will stay that way.
"I never got to play in the snow except my first time seeing snow in Louisville, but we had a snowball fight, so that's totally different from playing in it," Jackson said Tuesday. "Yeah, that definitely will be my first time playing football in the snow Saturday if it does. Hopefully it don't."