Patapsco River Links To Hold Women In The Arts Talent Showcase - Virtual Event To Be Held March 13, 2021
3/12/2021, 11:22 a.m.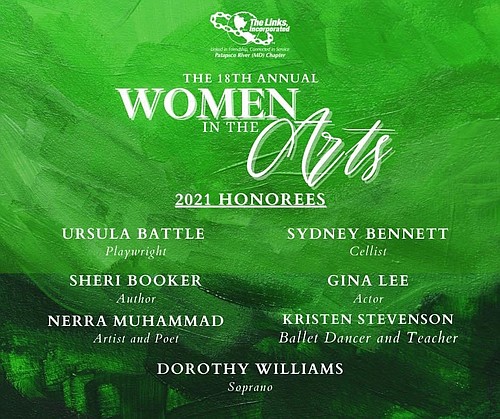 The 18th Annual Women in the Arts Talent Showcase presented by the Patapsco River (MD) Chapter of the Links, Inc. will take place Saturday, March 13, 2021 at 6 p.m. The event is free, but Eventbrite registration is required. The evening of the arts, celebrates and enjoys the artistic talents and achievements of African-American women who have made tremendous contributions to the community through their magnificent expressions of visual, literary, and performing arts.
In recognition of March as National Women's History Month, the Patapsco River (MD) Chapter of the Links, Inc are honoring this year's national theme: "Valiant Women of Freedom: Refusing to Be Silent" This theme honors the brave women who fought to win suffrage rights for women, and for the "she-ros" who continue to fight for the civil and human rights of others.
Baltimore Times Staff Writer Ursula V. Battle is among those being honored, and is being recognized for her contributions in the area of Playwriting. The other Honorees are: Sheri Booker, Author; Nerra Muhammad, Artist and Poet; Sydney Bennett, Cellist; Gina Lee, Actor; Kristen Stevenson, Ballet Dancer and Teacher; and Dorothy Williams (Soprano).

A short commercial about the event can be found here: https://www.youtube.com/watch?v=ZErn9eHL3yY&feature=youtu.be
This virtual event is free and open to the social media public. However, registration is required. The registration link is https://www.eventbrite.com/e/women-in-the-arts-2021-valiant-women-of-freedom-refusing-to-be-silent-tickets-143415007147?utm-medium=discovery&utm-campaign=social&utm-content=attendeeshare&utm-source=strongmail&utm-term=listing