Minority-Owned Market Slated for La Cité Location
3/26/2021, 6 a.m.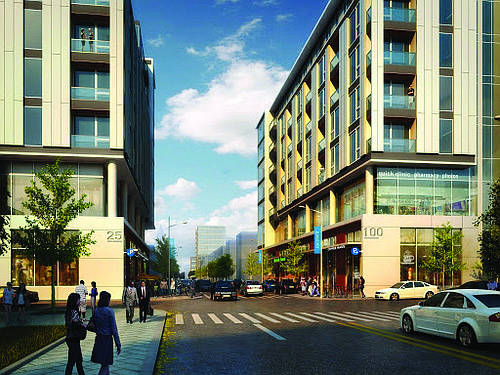 Baltimore— La Cité Development has entered into a definitive agreement to establish Market Fresh Gourmet as a full-service fresh food grocery at its CenterWest site.
Construction is anticipated to begin this spring on the northwest corner of the site at Fayette and Schroder Street. CenterWest is a large-scale redevelopment of 32.94 acres of land in the Poppleton neighborhood of Southwest Baltimore.
La Cité Development will ultimately build 3.2 million square feet creating approximately 1,800 units of mixed housing through four phases of construction.
Phase One of CenterWest was completed in 2020 and consists of two five-story buildings for a combined 262 apartments. The agreement will bring an 8,000 square foot grocery on-site to an area considered a food desert— an area with limited access to affordable and nutritious food.
"The quality of produce and nutritious options inside a local grocery store will tell you a lot about the surrounding community, and residents in the Poppleton neighborhood deserve better," Mayor Brandon M. Scott said in a statement. "This City/West venture helps address the food desert predicament in Southwest Baltimore by expanding access to healthy food while also providing job opportunities to local residents. I look forward to welcoming Market Fresh Gourmet to the community."
According to a news release, Market Fresh Gourmet, a minority-owned Maryland-based business, in partnership with Arctaris Impact Fund, a fund focused on building sustainable communities in Baltimore City, will focus on local employment opportunities with recruitment and training efforts through its workforce development programs.
The grocer will provide fresh foods and prepared foods along with classes and special events for the neighborhood. As other phases of the CenterWest project come online, the grocer will also expand its footprint.
"We have long appreciated that the CenterWest development would be a catalyst for other growth and development in the Poppleton area," said Acting Housing Commissioner Alice Kennedy. "When these opportunities manifest in a way that supports the expansion and development of other minority-owned businesses, we achieve an even more equitable outcome."
"Our entire business is about improving neighborhoods and uncompromising quality of life," said Dan Bythewood, Jr., president and managing partner of La Cité Development. "We welcome the Market Fresh Gourmet brand as one of our newest partners and look forward to welcoming additional partners as we continue to invest in the area."
"We're excited to work with La Cité Development in bringing our brand to Southwest Baltimore," said Mario Minor, CEO. "On behalf of the Market Fresh team, we're ready to serve the community by offering fresh, affordable selections and integrated technologies to support all shopping options. Along with recruiting and training associates locally, we also look forward to offering local products and helping others gain exposure and build their brands."
City Council President Nick J. Mosby said "life gets better for our residents when government works in partnership with the private sector to create results like bringing Market Fresh Gourmet to a food desert."
BDC is "excited to attract a quality, full service, Black-owned grocery store to the Poppleton neighborhood, and we welcome the first Market Fresh Gourmet to the city," said Colin Tarbert, president and CEO of the Baltimore Development Corporation (BDC). "Not only is the grocery store a great amenity to the Center/West development, but it will also provide job opportunities to the surrounding community, and BDC is proud to have worked with Market Fresh Gourmet in finding this location and will continue to assist their expansion in Baltimore."