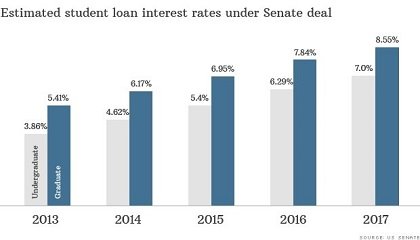 A bipartisan deal on student loans announced by a group of senators Thursday, July 18, 2013, will help students, but only in the short-term. According to the deal, undergraduates taking out loans this fall will pay just 3.86% in interest on new loans for this school year -- cheaper than the 6.8% interest rate that kicked in on July 1. The new rates would apply for loans taken out after July 1.
Stories this photo appears in:

The House on Wednesday approved a bipartisan that ensures lower interest rates on loans for students heading to college this fall.