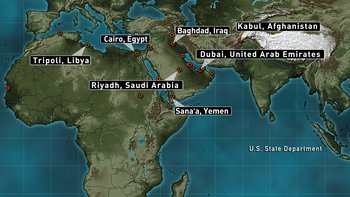 A global travel alert issued Friday by the State Department said al Qaeda may launch attacks in the Middle East, North Africa and beyond in coming weeks, and the U.S. government prepared to close embassies and consulates in the region Sunday as a precaution. 21 embassies and consulates are expected to close.

Stories this photo appears in:

The South African government is planning to implement a sugar tax to help curb the country's growing obesity epidemic.

What started as an unprecedented move to close almost two dozen diplomatic posts for a day has broadened to week-long closures for most of them as the United States mulls the threat of a possible attack.