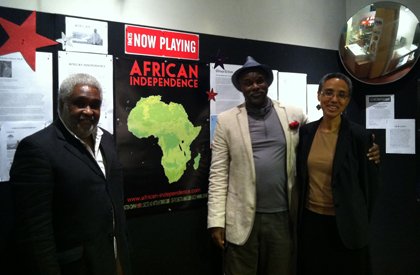 (Left to right) Reinaldo Barroso-Spech, Professor Tukufu Zuberi and Diarah N'Daw-Spech at the screening of the film "African Independence," a feature-length documentary that was written, directed and produced by scholar, filmmaker and PBS "History Detectives" host, Professor Tukufu Zuberi in June. "African Independence" will be shown on the opening night of the African Diaspora International Film Festival on Friday, August 16, 2013 at the Goethe Institute on Seventh Street in Washington, D.C. For the complete list and schedule of all films that will be shown at the film festival or to purchase tickets in advance, visit: www.NYADIFF.org. or call: 212-864-1760.

Stories this photo appears in:

It's the longest running film festival of its kind. For 20 years, the African Diaspora International Film Festival has taken New York by storm.