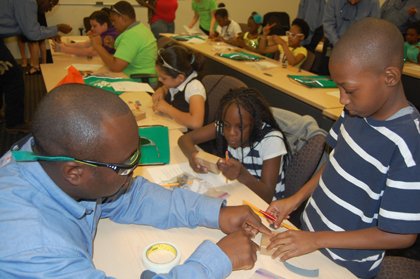 BGE utility trainee, Thaddeus Mason, helps scholars from Higher Achievement, Baltimore, use STEM to build a mini-generator. The event on Monday, August 5, 2013 with BGE was part of Higher Achievement's rigorous Summer Academy, a program, which helps limited-income youth develop strong academic behaviors and skills in middle school to prepare them for high school and beyond.
Stories this photo appears in:

Nearly 20 Baltimore Gas and Electric Company (BGE) utility trainees kicked off their week on Monday, August 5, 2013 by engaging more than 50 Higher Achievement, Baltimore, scholars in hands-on learning exercises, focused on helping the students use their STEM skills to learn about the skilled labor required to reliably and safely deliver natural gas and electric to BGE's 1.2 million central Maryland customers.