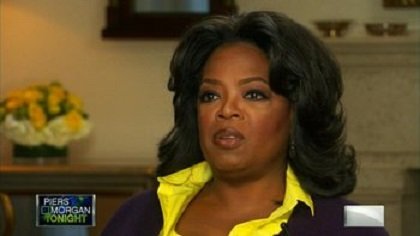 Oprah Winfrey on Piers Morgan Tonight
Stories this photo appears in:

Oprah Winfrey will become a member and part owner of the company
If you're looking to break a bad habit -- or form a new one -- science shows you're more likely to stick to it if you make the change on a Monday.

Story blew up after Winfrey cited her treatment in the store as an example of racism
Oprah Winfrey says she's sorry for the media storm that erupted after she recounted that she was the victim of racism in a posh Swiss boutique.

Billionaire U.S. media mogul Oprah Winfrey says she was the victim of racism on a recent trip to Switzerland when a shop assistant refused to show her a handbag because it was "too expensive."