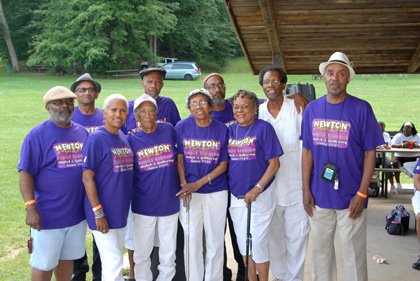 The Elders of the Newton Family— More than 140 family members and friends gathered to celebrate the Newton's 64th annual family reunion at Oregon Ridge Park on August 9, 2013. The family traces it lineage back to 19th century Charleston, South Carolina. Ninety-year-old Menyon Newton-Callum is the family's most senior member. (Front Row) Prescott Newton Sr.; Beulah Williamson; Margie McNair; Menyon McCallum; Richardine Mauney;Russell Newton Jr. (Back Row) Malien Newton Jr.; John McCallum; Abdus Salaam Abdulillaha; James "Bender" Jackson.
Newton Family continues traditon, celebrates 64th family reunion
Stories this photo appears in:
Eric Addison proved just as incredulous as most would. "Yes, 64 years they've been doing this," said Addison.