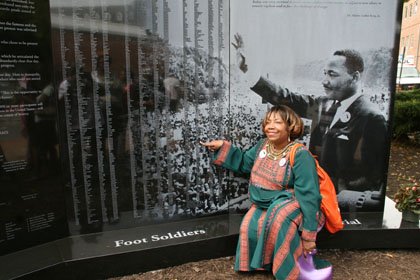 Foot soldier Rev. Melony McGant finds her name on the Civil Rights Foot Soldiers Memorial in Annapolis, Md.
Stories this photo appears in:

Wednesday, August 28 marked the 50th anniversary of the March on Washington. To commemorate this milestone, the Annapolis-based Dr. Martin Luther King Jr., Committee, Inc. unveiled the nation's first memorial to the 250,000 "foot soldiers" of the March – the ordinary citizens who marched in the demonstration and risked the threat of personal harm to underline support for the civil rights leaders who spoke that day.