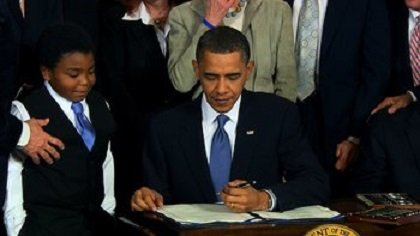 President Barrack Obama signs into law a sweeping bill overhauling the U.S. medical system at the White House on March 23, 2010. Among other provisions, the law requires most Americans to purchase health insurance.
Stories this photo appears in:

After a surge of sign-ups on enrollment deadline day, Obamacare is now on track to hit the White House's original target of 7 million people signing up, a senior administration official said Tuesday.

Some 106,185 people signed up for Obamacare in its first month of operation, a period marred by major technological problems with both the federal and state enrollment websites.

The Obamacare employer mandate has been delayed by a year to 2015, meaning that many businesses can push back providing worker health insurance a bit longer.